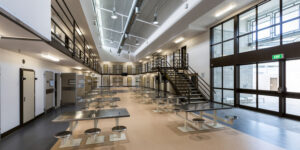 As we have commented before, we believe that contraband cell phones are a problem of both supply and demand. Due to the demand for cell phones in prison, there is an active and highly lucrative pipeline of supply. Most prison administrations have focused on restricting the supply of contraband cell phones through detection, jamming and search.
However, like the problem of drug smuggling, without addressing the demand for contraband, the problem will never be solved. In addition to reducing the demand for, and therefore the supply of, contraband cell phones, enhanced access to telecommunications services has the proven, significant, additional benefits of reducing recidivism, improving detainee behavior and increasing officer safety. In New Zealand, a new prison will be installing wall phones in each cell to address these issues.
Regarding the decision to provide enhanced access to telecommunication services, the Corrections Minister defended the policy of phones in every cell. He said it would "not result in a substantial increase in the number of calls being made by prisoners nor changes to who prisoners are calling" but would "reduce the potential for tension in the shared areas around public phones as prisoners will not have to gather and wait to use them". We believe however, assuming calling is not restricted to a number of calls per day or the typical 15 minutes per call, that call volume will increase, perhaps significantly.
This approach will also allow