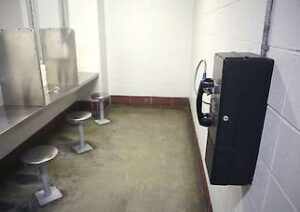 The Michigan DOC is changing prison pay phone vendors and increasing the price of a prison phone call. Some of the increased revenue generated by the new phone rates will be used to install cell phone jammers to thwart smuggled contraband cell phones.
The corrections department had contracted with Kansas-based EMBARQ. That contract expired in 2009 but the company agreed to continue service until the department found a new vendor, Cordell said. EMBARQ offered the department the fifth cheapest phone rate for prisons in the country. The new contract with PCS gives Michigan prisoners the 11th cheapest phone rate in the country.
The contract is a zero-dollar contract. The corrections department contracts with PCS for the service and the users pay for it. It does not generate a profit for the department, Cordell said.
The new rate is still much cheaper than collect calls placed outside of the prison system. According to rate information on AT&T's website, collect calls using 800-CALL-ATT cost $1.49 per minute with a $5.99 to $8.50 service charge per call. It costs $3.99 per minute and a $9.99 connection fee to make a call using 800-COLLECT, according to rates on their website.
The rate increase will go toward providing more phones in prisons and upgrading existing technology. About 29 percent of the per minute rate goes into a fund to equip the prison to detect and jam cell phones within facilities, Cordell said.
Across the country, inmates using smuggled cell phones is becoming a growing problem. It has not gotten out of hand in Michigan, Cordell said, with about eight to 10 cell phones confiscated each year. Michigan law makes it a felony to bring in a cell phone as contraband. But the trend has prison officials concerned. They search for cell phones everyday, and the new technology will allow prisons to jam cell phone signals.
"They are a huge security issue — especially a smart phone. You can run your criminal empire. You can run and organize escapes. You can put hits out on people," Cordell said. "We take them very, very seriously."
The new phone system will be phased into Michigan's prisons throughout the month.