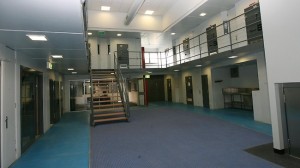 An article about a prison in Australia highlighting the problem of contraband technology being smuggled into prisons. It is not just contraband prison cell phones which are a problem in this particular facility.
Prisoners in one of Victoria's most secure jails have been using webcams and wireless internet devices to enjoy freedom on the outside world.
The Herald Sun can reveal two cameras, a wireless USB internet stick and several USBs containing data were found at Barwon Prison.
Police are investigating and several inmates may be charged.
It is the latest in a series of breaches at the maximum-security prison, the most serious being the murder of gangland killer Carl Williams last year.
Correction Victoria's Security and Emergency Services Group officers seized computers in last month's search.
The contraband was found in the prison's Eucalypt unit, which houses murderers such as police killer Jason Roberts.
The Herald Sun has reported Roberts had been taunting his victims online by professing his innocence, and calling on pen pals to write to him.
A Corrections Victoria spokesman said at the time it was believed the websites were being maintained by someone outside jail.
Victorian prisoners are not allowed internet access.
"Prisoners across the Victorian prison system have access to computers in specified and controlled circumstances, which never includes internet access. Computers are subject to regular searches and audits," the spokesman said.
"Any prisoner found to have used their computer inappropriately will not get it back.
"Corrections Victoria is constantly reviewing its computer policy in light of technological developments such as internet-enabled USB devices."
The spokesman said security officers made 90,000 searches of prisoners and visitors in the past year.
But resourceful criminals were still been able to smuggle compact computer equipment into jail.
Killer Hugo Rich was found with a stash of cyber porn when his cell was searched late last year.
Loddon Prison in central Victoria was nicknamed Crazy Johns after thee mobile phones and other accessories were seized in March last year.
Two killers were linked to that discovery.
Opposition corrections spokeswoman Jill Hennessy said the State Government had not invested enough in security or guards.