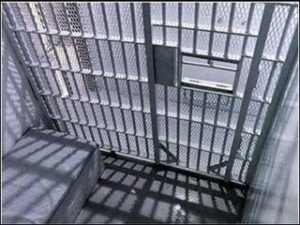 This article is about yet another prison guard caught smuggling a contraband cell phone into jail. Given the high price paid by inmates for an illegal cell phone, the corruption of prison guards has become all to commonplace. A reduction of the contraband value of smuggled cell phones through the deployment of the meshDETECT secure prison cell phone solution will change the economics of this problem and reduce prison cell phone smuggling without the high cost of wireless jammers.
A former San Joaquin County jailer arrested for allegedly smuggling a cell phone to an inmate pleaded guilty Thursday to unlawfully accessing a computer database, according to court documents.
The guilty plea of Michael George McCann, 41, almost guarantees his career in law enforcement is over, said San Joaquin County Deputy District Attorney Donald Vaughn.
"I don't know of any law enforcement agency anywhere that would hire a convicted felon," Vaughn said in a telephone interview Thursday afternoon.
McCann was arrested on Jan. 6 after an investigation uncovered he had allegedly smuggled a cell phone into the jail. The prosecution had photographic evidence of McCann meeting an inmate's significant other at a convenience store and receiving money, Vaughn said.
While he faced multiple charges in connection to the smuggling and unlawful access, the bulk of the charges were thrown out in the interest of justice, according to court documents.
Although he may not serve any time behind bars as part of his plea, Vaughn said he was pleased with the outcome because it shows the public wrongdoing will not be tolerated.
"He's leaving here as a convicted felon on probation," he said.
Vaughn would not speculate what McCann's motive was for accessing the database.
The situation is an unfortunate one because it taints the image of the county and its justice system, the prosecutor said.
"It's a sad case for all of law enforcement," he said. "Citizens have to be able to trust law enforcement officers in order for them to do their job; people like McCann really hurt the community."
McCann had been an employee of the San Joaquin Sheriff's office since January of 2002, Sheriff's spokesperson Les Garcia previously said. The department did not comment on McCann's plea because he is no longer an employee.
Officials also declined comment on if procedures or protocols for correctional officers have changed since McCann's arrest.
The former correction officer will be sentenced September 23. He could face between 0 days and 1 year in jail, Vaughn said. A probation report will be prepared prior to his sentencing to give the judge an objective look at what his punishment should be, Vaughn said.
"How much time he spends in jail, if any, will be up to the judge," he said.
McCann's lawyer, Gary Lacy, could not be reached for comment.