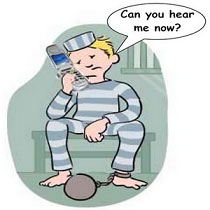 Apparently, contraband cell phones are a problem even in Saudi Arabia. Cell phone jammers are being installed in all the prisons there to eliminate cell phone smuggling
Jeddah: Prison authorities plan to install cell phone jammers in all jails in the Kingdom, an official said
"The move aims to stop attempts by inmates to illegally communicate with outsiders to carry out criminal activities that would be harmful to other inmates," assistant spokesman of the directorate Capt. Abdullah Nasser Al-Harbi told Arab News on Wednesday.
The directorate is coordinating with the mobile telephone service providers in the Kingdom and the Telecommunication and Information Technology Commission to identify the type of mobile jammers that could be used in jails, he said.
The authorities have to take care that the devices do not interfere with mobile telephone services outside the jails.
The directorate of prisons has already installed the jamming devices in Dammam and Alkhobar's prisons on a trial basis.
The two jail authorities will submit a report to the directorate on the experiment shortly, Al-Harbi said.
He added that every jail, particularly the large ones, have a telephone cabin for inmates. "With the help of a special card inmates can call their relatives and there is no justification for using cell phones illegally inside the jail premises," he said.