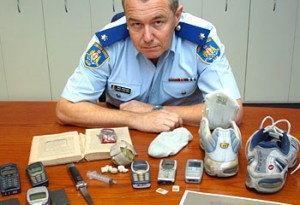 Contraband cell phones in prison are on a par with drugs in terms of the ability to corrupt guards. Prison guards who smuggle contraband cell phones into jails do so because of the high price placed on smuggled wireless phones. Reducing the contraband value of cell phones by offering a secure prison cell phone service minimizes the temptation to smuggle in the first place.
The Fulton County Sheriff expects more arrests of his staff before a major jail contraband investigation is complete. And he promoted an interim chief jailer to a permanent position the same day an inmate shot another inmate with a smuggled handgun.
Sheriff Ted Jackson told Channel 2 Action News on Friday that he felt he had no choice but to turn to the FBI for help after finding illegal items, such as marijuana and drugs, in Fulton County jail cells last June. "We knew we had a problem and it was a problem we couldn't handle," Jackson said. "There was no one else we could go to."
Thursday, FBI agents arrested a sheriff's deputy and three detention officers following a nearly year-long sting to Sheriff's Office employees facilitating the transfer of contraband into the jail. "We expect other employees to be arrested," Jackson said. "This is only the beginning."
The arrests came a week after the shooting incident, but had been in the works since a growing amount of cell phones and marijuana was turning up in periodic cell searches, he said. "It's hard to conceal that you're bringing cell phones in," said Jackson, the former FBI Agent in Charge for Atlanta. "An investigation will show the methods used. The reason I went to the FBI is because I knew it was bigger than just a few employees."
He didn't rule out the possibility that rank officers could be implicated by the investigation. But Jackson announced after Thursday's arrests that increased security measures at the jail would include requirements that employees be searched before entering the jail.
Former chief jailer Charles Felton, reached by phone Friday, questioned the timing of the arrests, and wondered why such procedures — which Jackson has always had the authority to implement — weren't initiated before a gun was discovered in the jail. "Why are they just making a bust now?" he asked the Atlanta Journal-Constitution. "I'm sure they didn't gather all this information in the past week."
Felton, who was jail chief from January 2009 to January 2010, said he wouldn't search every employee, but random searches would put everyone on notice that anyone could be screened at any time. "When you have 130 people coming in on a shift, you can't search everyone," he said. "But the purpose of the searches is as a deterrent."
With violent members of five known gangs active inside the jail, Jackson said it was possible that some of his employees fell under their influence. "They want to have control of the jail the same way the have control of the streets," he said. "That puts a lot of strain on our employees. Some of our employees become too close, and that is how the contraband is coming in."
Since January of this year, Jackson admitted that jail officials had found as many as 50 mobile phones inside the jail, a dangerous prospect for those inside and outside the jail when the phones are in the hands of drug dealers or violent criminals. "With cell phones, inmates can do business outside, or communicate with other inmates inside," he said.
Jackson said he had planned to promote Mark Adger to full-time jail chief the day of the shooting, and stuck to his intentions after the incident. "I was there when it happened," he said. "I had gone there for that reason. I didn't see any reason not to do it."
Felton agreed that if noting in the initial investigation of the shooting or the ongoing FBI investigation indicated that Adger was incapable, there was no reason to let the incident block his promotion. "This is not unusual," Felton said. Still, Felton said the steps Jackson has taken should send a clear message.
"If you're going to wear that badge, the message should be clear that no one is going to introduce contraband or illegal drugs into the Fulton County jail," Felton said.