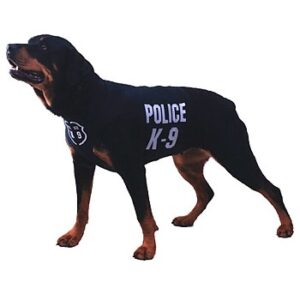 This article discusses the use of K9 to detect smuggled cell phones in a Tulsa prison. The article quotes a prison official as saying, "Cell phones are a way for them to communicate without us listening."
The meshDETECT secure prison cell phone solution records each call and gives corrections officials the ability to monitor detainee conversations during and after the call itself.
The Tulsa County Sheriff's Office added a new deputy to the force.
Baxy, is the first K9 in David L. Moss Correction facility.
The Belgian Malinois can sniff out several drugs, tobacco and cell phones smuggled into the jail.
Cell phones are becoming a bigger problem in correction facilities, as some inmates use them to order hits and drugs without law enforcement knowing it.
This is Baxy's first week on the job.
Many K9s are trained to find drugs but Baxy is unique, she can sniff out tobacco and cell phones which common contraband smuggled into the jail.
Deputy Munson's new partner is trained to find five drugs, tobacco and cell phones.
Munson hid a cell phone in a bible where an inmate cut out the inside to disguise contraband.
"She's picked up the scent," says Munson.
The cell phone can be used to hide dangerous information from the law.
"Hits being ordered or drugs being ordered," says Munson.
Attempted hits like the one on now retired TPD Homicide Sergeant Mike Huff and Tulsa County District Attorney Tim Harris.
Court records show inmates already in jail for murder on other cases used smuggled cell phones in the jail to plan the hit.
Signs on jail phones say conversations are recorded.
"Cell phones are a way for them to communicate without us listening," says Munson.
Cell phones are also used to intimidate witnesses and plan an escape.
"'I know I am going to court at nine this morning, let's try and take out the van and show up in court,'" says jail Sgt. Bob Darby.
That's why Baxy is crucial in the jail.
She found the hidden cell phone in the bible in one minute.
No other dog in the state is reported to be used to find cell phones in prisons or jails.
Baxy can even find tobacco which is often used to barter or trade for favors.
"We get reports of people smuggling in daily," says Darby.
Visitors are known to smuggle in contraband in the restrooms.
"We find a lot of it in the trash can or toilet roll, when inmate an inmate crew comes by they put it in their sock," says Darby.
Even officers called "ducks" are known to smuggle contraband.
Baxy will also use information in inmate underground mail known as "kites".
"They [inmates] will write down drops, where it's going to be, who's going to pick it up," says Munson.
Baxy will make her rounds throughout the jail, in cells, restrooms, and closets.
"Not only are we still doing our spot checks visually but we've got a nose that's thousands of times better than ours that can show us spots that we weren't even thinking of," says Munson.
The Tulsa County Sheriff's Office spent $8,000 on Baxy. Sergeant Darby says an experienced detention officer costs $3,000 a month and $55 per day, per inmate.
A spokesperson for the Oklahoma Department of Corrections says officers have K9s that can sniff out drugs in prisons but don't plan to purchase any that can find cell phones.
DOC officers are continuing to work on the state and federal level and asking the FCC to use technology to jam cell phone signals around the prisons.