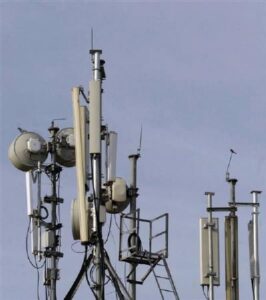 The CDCR recently issued a bid for its inmate telephone services and made the installation of wireless managed access jamming systems in its prisons a requirement for the bidders. Global Tel*Link (GTL) has won that bid and will therefore be bearing the cost of installing these systems. Given the high cost of this selective jamming technology and GTL's commitment not to raise the cost of calls for prisoners, either the CDCR is taking a much lower commission on the calls or GTL is taking a haircut on its profits.

Managed access has previously been installed at the Parchman correctional facility in Mississippi. Although the jamming system has blocked most contraband cell phone usage, there have been some noteworthy breaches.
Update (4/18/12):Global Tel expects to have the blocking technology running at the California State Prison in Solano by the end of the year and at all prisons within three years.
The state won't share in the profits Global Tel makes from the collect calls, but the company will pay an estimated $1 million for implementation and installation at each of the state's 33 prisons.
Global Tel will also pay an $800,000 annual fee to the California Technology Agency for the contract, and the agency will make sure the Mobile, Ala.-based firm doesn't hike calling rates, according to the contract.
The deal will mean slightly lower rates for collect calls than prisoners currently pay. A 15-minute local call will cost $1.50, while a 15-minute in-state, long-distance call will cost about $2, a decrease of a penny a minute. A 15-minute interstate call will cost $6.60, a decrease of nearly 22 cents a minute.
Update (5/9/12): the California Council on Science and Technology (CCST) released a report today advising the State of California to use security screening systems, similar to those in airports, in state prisons before investing millions in the untested MAS technology intended to block calls by inmates from contraband cell phones.
Update (1/6/16): CDCR Halts Roll Out Of Managed Access Cell Phone Jamming. The department has halted expansion while options are pondered.
Original Post: The California Department of Corrections and Rehabilitation (CDCR) today announced a "groundbreaking and momentous" contract awarded to Global Tel*Link (GTL) designed to eliminate the contraband cell phone use by inmates.
Under the contract, GTL will also provide the Inmate/Ward Telephone System (IWTS) for inmates to make domestic and international calls from an authorized phone network.
"Inmates have used cell phones to commit more crimes, organize assaults on staff, and terrorize victims," CDCR Secretary Matthew Cate said. "This groundbreaking and momentous technology will enable CDCR to crack down on the potentially dangerous communications by inmates."
Managed Access technology uses a secure cellular umbrella over a specified area blocking unauthorized cellular communication transmissions, such as e-mails, texts, phone calls, or Internet access.
Implementation of the Managed Access System will come at no cost to taxpayers. GTL is responsible for all implementation costs, including new installation of equipment and services, as well as the costs of operating this technology at CDCR institutions. GTL, in return, receives the revenue generated from the ITWS services.
CDCR anticipates the Managed Access System to be operational at its first institution by the end of the year with other institutions to follow.
The Federal Communications Commission supports Managed Access technology as a lawful means to effectively stop the use of contraband cell phones in prisons.
In October 2011, Governor Edmund G. Brown Jr. signed Senate Bill (SB) 26 (Padilla) into law. Under SB 26 it is a misdemeanor, with a possible fine of up to $5,000 per device, for possessing or attempting to introduce an unauthorized cell phone in a prison. The misdemeanor prosecution and fines apply to staff, contractors and visitors. Penalties for inmates include up to 90 days loss of good-time credits.
SB 26 prohibited the company from raising rates for collect calls on the Inmate/Ward Telephone System. In fact, called parties will realize a reduced rate under the new contract. The new IWTS will provide additional enhancements including multiple payment options for inmates and their families. The California Technology Agency, which owns and administers the contract, will monitor service to ensure there are no additional charges applied to calls.
In 2011, CDCR tested the Managed Access technology at two institutions. The test was conducted over an 11-day period for approximately eight hours a day. During the test, the equipment detected a total of 2,593 unique wireless devices. The equipment blocked more than 25,000 unauthorized communication attempts, such as calls, texts, emails, and efforts to log on to the Internet from a smart phone.
In 2007, CDCR staff discovered nearly 1,400 contraband cell phones. In 2008, it was 2,800; in 2009, 6,995; in 2010, approximately 10,760; in 2011, more than 15,000; and to date this year, 2,181 contraband cell phones have been discovered in prisons and Conservation Camps.