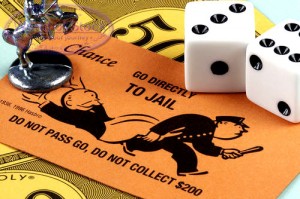 Recent statistics show that, on average, a day in state prison costs nearly $80
Cash-strapped states have increasingly turned to user fees to fund their criminal justice systems, as well as to provide general budgetary support. States now charge defendants for everything from probation supervision, to jail stays, to the use of a constitutionally-required public defender. Every stage of the criminal justice process, it seems, has become ripe for a surcharge.
These "user fees" differ from other kinds of court-imposed financial obligations. Unlike fines, whose purpose is to punish, and restitution, whose purpose is to compensate victims, user fees are explicitly intended to raise revenue. Sometimes deployed as an eleventh hour maneuver to close a state budget gap, the decision to raise or create new user fees is rarely made with much deliberation or thought about the consequences. (source)
How did these fees come to be such an important part of funding prison operations?
History of Inmate Fees
In 1982, Michigan passes the first law in the nation, allowing inmates to be charged a medical co-payment.
By 1997, 41 states had been authorized to collect inmate fees in four major categories:
1. Medical services,
2. Per diem,
3. Non-program functions, and
4. Program participation.
By 2004, according to an article by Institute for Southern Studies, approximately one-third of county jails and more than 50% of state correctional systems had instituted "pay-to-stay" fees, charging inmates for their own incarceration.
What are facilities currently charging for?
1. Medical services;
2. Per diem – includes "pay-to-stay," food, and basic programs;
3. Other non-program functions – includes services such as telephone usage, haircuts, release/parole escort, and drug testing; and
4. Program participation – includes work release, electronic monitoring, substance abuse treatment, and medical costs. (source)
In more detail, these fees can include:
Booking
Release escort
Drug testing
Telephones
Haircuts
Bonding
Clothing
Commissary (general)
Commissary (debit card transaction fee)
Detoxification
Laundry
Meals
Notary service
Property damage
Recreational clothing/gear
Sheriff's fee, criminal court clerk
Transportation
Vending machines
Work release (room and board)
Weekender programs
Medical Co-pays
New Revenue Sources
As state budgets continue to contract, prison systems across the country are getting more creative in their fee sources. For example, inmate visits in Arizona now require a $25 fee. New legislation allows the department to impose a $25 fee on adults who wish to visit inmates at any of the 15 prison complexes that house state prisoners. The one-time "background check fee" for visitors is believed to be the first of its kind in the nation.
The New Hampshire Department of Corrections has gone into business with a St. Louis-based company to provide inmates with access to email and downloadable music. It sells see-through MP3 players and other devices to the inmates directly for as much as $130 — 10 percent of which goes into the NHDOC's recreation fund to pay for other inmate activities.
And in Ohio, criminals sentenced to the Franklin County jail will be charged $40 for the pleasure, starting next year.
Sheriff Zach Scott proposed the fee after commissioners asked him to find ways to generate revenue. The one-time charge will apply to criminals sentenced to either the medium- or maximum-security jail.
"We need the money," said Scott, who has been fighting with the county over his 2012 budget.
Dave Masterson, Scott's finance director, predicted that the fee will generate between $106,000 and $200,000 annually for Scott's operating budget. Chief Deputy Mark Barrett said the $40 fee is based on the cost of labor to book a prisoner into the jail.
In Wichita, KS, the City Council has given initial approval to charge a housing fee for municipal offenders.
Right now the city pays millions to the county to house the inmates, and city officials say the tab is getting too big. Since 2008, the county has charged the city $2.09 per hour to house municipal offenders. That amounts to millions of dollars the city pays each year.
To cut back on that bill, the city wants to shift the cost to convicted offenders. The city is proposing is a $2 per hour fee attached with a ten dollar booking fee.

The Impact Of Mandatory Fees
For prisons, detainees and their families, the impact of mandatory fees can be significant. Fees and other criminal justice debt are typically levied on a population uniquely unable to make payments. Criminal defendants are overwhelmingly poor. It is estimated that 80-90 percent of those charged with criminal offenses qualify for indigent defense. Nearly 65 percent of those incarcerated in the U.S. did not receive a high school diploma; 70 percent of prisoners function at the lowest literacy levels. African-Americans face a particularly severe burden: Nationally, African-Americans comprise 13 percent of the population but 28 percent of those arrested and 40 percent of those incarcerated, and African-Americans are almost five times more likely than white defendants to rely on indigent defense counsel.
Individuals emerging from prison often face significant challenges meeting basic needs. Many are unable to find stable housing – it is estimated that 15 to 27 percent of prisoners expect to go to homeless shelters upon their release. Many used drugs or alcohol regularly before going to prison and may need treatment upon release.
Employment rates for those coming out of prison are also notoriously low – up to 60 percent of former inmates are unemployed one year after release. Obstacles to finding a job are even greater now, as the unemployment rate in the general population hovers at just under 10 percent, and is as high as 16 percent for industries such as construction that have traditionally been sources of jobs for persons with criminal convictions.
Against this backdrop, criminal justice debt adds yet one more barrier to getting on one's feet. What at first glance appears to be easy money for the state can carry significant hidden costs – both human and financial – for individuals, for the government, and for the community at large. When persons with convictions are unable to pay their debts, they face a cascade of consequences. Late fees, interest, and other "poverty penalties" accrue. In many states, driver's licenses are suspended for missed payments, thereby stripping individuals of a legal means of traveling to work. Damaged credit can make it difficult to find employment or housing.
Worse yet, in many ways, when states impose debt that cannot be paid they are charting a path back to prison. Debt-related mandatory court appearances and probation and parole conditions leave debtors vulnerable for violations that result in a new form of debtors' prison. Suspended driver's licenses lead to criminal sanctions if debtors continue to drive. Aggressive collection tactics can disrupt employment, make it difficult to meet other obligations such as child support, and lead to financial insecurity – all of which can lead to recidivism. (source)

A Fairer Alternative?
One alternative is to offer "optional" services such as the email service and mp3 players mentioned above. Only those who can afford the service will purchase. However, the revenue to the prison can be significant and reoccurring given the ongoing nature of these service offerings. The meshDETECT secure prison cell phone solution is another such optional service that can offered to raise revenue. In addition to reducing the value of contraband cell phones in prison, commission earnings can be an alternative to the burden of imposed fees on those least likely to be able to pay.