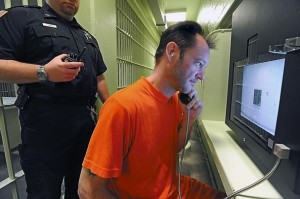 An interesting article about the use of video visitation in prison. We recently discussed the search for new sources of revenue by prison administrators and the positive impact of visitation on prisoner recidivism. This article highlights the use of technology to accomplish both goals.
Taking these trends one step further, we can envision the time when prisoners are allowed to use the meshDETECT secure prison cell phone service to not only make and receive calls from loved ones, but also to engage in a video visitation over the wireless phone. Like the phone calls, all the needed security and control will be present in the hand-held wireless device when used for video visitation.
As stated in the article, "The company's revenue-sharing model provides some incentives to corrections agencies. But the real savings are in staffing. Everyone has had to rein in costs. It's cheaper to put in an Internet system to cut down on inmate movement than to have people come on-site." Allowing prisoners to make calls, whether voice or video, from their cells will raise revenue, increase safety and reduce cost.
Lydia Curtis walked into the visiting room with a handful of other women Wednesday at the Cape May County Jail, where a sheriff's officer ran a metal-detecting wand over them.
Curtis, 37, of Lower Township, was there to visit her husband, Ben Curtis, who is awaiting extradition to Pennsylvania on a warrant for failing to complete community service in Bucks County, she said.
"We just talk about normal, daily stuff. He wants to know about the kids. They play sports," she said of the couple's four children.
These in-person visits have become less common since Cape May County introduced Internet visitation last April.
The system works like Skype. Inmates or their families pay a fee to chat over the Internet through a video screen. Families can access the system over the web.
County officials are convinced this kind of service could raise millions of dollars in new revenue for the state Department of Corrections.
More jails in New Jersey are considering adopting this kind of service. And one provider, iWebVisit.com of Reno, Nev., recently met with New Jersey officials about using the system at the state's prisons.
Cape May County freeholders in January 2011 paid iWebVisit.com $67,145 to install 27 video-chat terminals at the jail off Crest Haven Boulevard in Middle Township. Inmate processing fees paid for $17,000 of those costs.
The county receives 46 percent of revenue from the video chats between inmates and their friends, family or even lawyers. The company charges $10 for a 20-minute video chat; $15 for a chat with a lawyer.
While the system has not replaced in-person visits, it has become a popular alternative for inmates and their families, Sheriff Gary Schaffer said.
"Over the summer, about two-thirds of our visits were over the Internet," he said. "The results are better than I expected and they'll only get better. We've had a couple law firms sign up already. Attorneys are starting to use it more."
Cape May County collected about $8,000 in revenue since the system went live in May. These earnings are expected to increase to $20,000 in 2012, Administrator Stephen O'Connor said.
The company recently met with the state Department of Corrections about adopting the system at New Jersey's nine state prisons.
"A presentation has been made, but they haven't decided which way they can go," Corrections spokesman Matt Schuman said. Corrections Commissioner Gary Lanigan would make the final decision, Schuman said.
New Jersey houses about 24,200 inmates, according to the department. That's about 100 times the average occupancy of the Cape May County jail.
Under the terms of the county's deal, the state might expect to raise at least $2 million in new revenue per year — more, if the participation rate were higher.
"If the state does go with this kind of thing, they can make millions of dollars per year," Schaffer said. "Take the number of inmates in the system. Some of our inmates have three visits per day, while before they were lucky to get one visit per week."
Salem County signed a similar agreement in November. Because Cape May County was the first in New Jersey to try the system, the company offered Cape May County a more favorable revenue-sharing deal.
"They came in by offering us 15 percent," Salem County Jail Warden Raymond C. Skradzinski said. "We coaxed them up to 25 percent."
Salem County, which, unlike Cape May County, houses federal inmates awaiting trial from Delaware, Pennsylvania and New Jersey, expects to see $10,000 to $20,000 in its first full year, Skradzinski said.
The Nevada company was one of four that bid on the Cape May County proposal. The company provides Internet visitation at jails in six states, spokesman Robert Avery said.
"We're talking to the U.S. Department of Homeland Security right now. They run all the ICE jails," he said of Immigration and Customs Enforcement.
"ICE inmates are typically housed extremely far from their families," he said. "I've been told the ICE inmates are practically wearing out our system. It's very popular with them."
Avery said the company's revenue-sharing model provides some incentives to corrections agencies. But the real savings are in staffing, he said.
"Everyone has had to rein in costs. It's cheaper to put in an Internet system to cut down on inmate movement than to have people come on-site," he said.
Schaffer agreed he expects to be able to cut down on overtime for scheduled visitation as more inmates start using the Internet version.
Lower Township's Curtis says she has tried the Internet visitation from her home, but prefers to save money by coming to the jail when she can.
"It's a little impersonal," she said. "State prisons allow contact visits. Prisoners are not going to want to give that up."
Reached for comment, the New Jersey branch of the American Civil Liberties Union declined to comment when told the Internet visits were optional.
Salem County's Skradzinski said prison inmates likely would use the Internet visitation system much more than typical jail inmates. Prisoners serve longer sentences than most jail inmates, which are typically limited to 1 year. And state prisons often impose greater geographic distances between inmates and their families.
Skradzinski recommends the state consider this kind of visitation system.
"It would be the smart thing to do. I definitely see it being the wave of the future," he said.