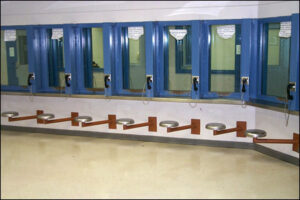 A recent study demonstrated the impact connection and communication with family has on reducing recidivism. Specifically, the impact of visitation on recidivism. The study also found that nearly 40 percent of prisoners were not visited once while in prison.
It is clear from this study that by providing a more frequent and better means of communicating for both those who receive visitors, and especially for those who do not, recidivism can be reduced. One means of doing so is to provide increased access to telecommunications services between visits. The meshDETECT secure prison cell phone solution addresses this opportunity. By providing each prisoner with a secure cell phone, more and higher quality phone contact will result and recidivism will be reduced. As the study states, "the more sources of social support an offender has, the lower the risk of recidivism."
The Minnesota Department of Corrections (DOC) recently completed a study that examined the effects of prison visitation on offender recidivism. Using an average follow-up period of nearly five years, the study evaluated the relationship between prison visitation and recidivism among 16,420 offenders released from Minnesota prisons between 2003 and 2007.
KEY FINDINGS
• Offenders who were visited in prison were significantly less likely to recidivate. The reductions in recidivism were:
– 13 percent for a felony reconviction
– 25 percent for reincarceration for a technical violation revocation
• Nearly 40 percent of the offenders were not visited once while in prison.
• Visits from siblings, in-laws, fathers and clergy were the most beneficial in lowering recidivism.
• The frequency with which inmates were visited had a significant effect on recidivism.
– Inmates visited more often were less likely to recidivate.
• Visits closer to an offender's release date had a greater impact on reducing recidivism.
• The larger an offender's social support system, the lower the risk for recidivism.
– The total number of different individual visitors an offender had was significantly associated with less recidivism.
The findings suggest that prison visitation can significantly improve the transition
offenders make from the institution to the community. Any visit reduced the risk of
recidivism by 13 percent for felony reconvictions and 25 percent for technical violation
revocations. The findings further showed that more frequent and recent visits were
associated with a decreased risk of recidivism. The results also suggest that the more
sources of social support an offender has, the lower the risk of recidivism.