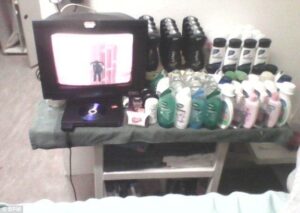 Another story about a prisoner using a contraband cell phone to post photos on Facebook. This one is from the UK. We have written about the posting of pictures to Facebook before (here and here). This is a significant issue for prison officials and crime victims alike, caused by the growing problem of smuggled cell phones in prison.
Posing for a secret camera in a jail cell packed with goodies, this is teenage murderer Liam Ryan as the outside world should not be allowed to see him.
Ryan, 19, is currently serving a life sentence at a young Offenders' institute in Brinsford for the murder of Birmingham shopkeeper Suppiah Tharmaseelan, a father-of-four.
But in a series of photographs – apparently illicitly taken because inmates are not allowed mobile phones, computers or cameras in their cells – Ryan is seen making gangster salutes and showing off his material possessions.
The images were posted to an album entitled 'Mobile Uploads' on Ryan's Facebook page from behind bars, according to the source who supplied them to the Birmingham Mail newspaper.
Access to Ryan's Facebook profile is currently restricted to just online friends, but he is not allowed to update the page – or have anyone else update it for him – while he is in custody.
It is not clear whether the images were taken before or after Ryan was last month jailed for life and ordered to serve a minimum of 21 years.
The source said: 'We cannot understand how they were taken inside a prison cell.
'The pics clearly show the convicted killer posing and smiling.
'I am sickened at this completely brazen showing of not having a care for the actions he was convicted of.'
The Ministry of Justice says prisoners should not have access to mobile phones or computers to update online profiles.
A Prison Service spokesperson said: 'Prisoners have no access to the internet and are barred from updating their Facebook accounts while serving their sentence, or asking others to do so from outside prison. If they do, their accounts will be terminated.
'If a prisoner is found in illicit possession of a mobile phone or other contraband they will be dealt with appropriately by the prison.'
The sickening images show him pointing his fingers towards the camera in the shape of a gun.
He also shows off a TV, a PlayStation games console and stereo, all believed to be inside his cell.
One of his shelves is packed with crisps, Pot Noodles, cordial drinks and fruit juice, while another is packed with rows of toiletries.