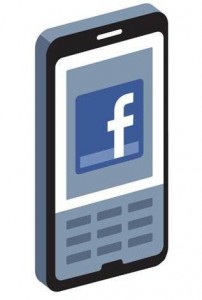 Yet another instance of a prisoner using a contraband cell phone with internet access to post on Facebook. The meshDETECT secure prison cell phones do not allow internet access.

The sister of a murder victim is calling for Indiana prison officials to remove a Facebook profile for an inmate at the Wabash Valley Correctional Facility in Carlisle.
Quintez Deloney, 20, of New Albany, is serving a 38-year sentence for a burglary that led to the death of 26-year-old Lewis James of Charlestown. James' sister, Lisa Cunningham, said she learned Saturday that Deloney has a Facebook page on which he appears to be posting from prison.
"It feels like five years ago all over again. It's like everything just happened again," Cunningham said. "[Deloney] shouldn't have any freedom. Once you're in prison, you lose all your rights."
In January 2007, James was shot seven times — four times in the back — at an apartment on William O. Vance Court in New Albany where he went to buy drugs. Floyd County prosecutors alleged Deloney and Lance Douglas, 24, kicked down the door to the apartment and attempted to rob James. When James resisted, he was shot.
Although prosecutors argued Deloney was the shooter, the jury convicted Douglas of murder but found Deloney guilty of only robbery and burglary. Deloney was sentenced in May 2009 to 80 years in prison, but that was reduced after the Indiana Court of Appeals found he should not have been sentenced for both the robbery and burglary charges because of the double jeopardy provision.
Deloney, through his attorney Bruce Brightwell, has filed a motion to correct error with the court seeking to have his conviction overturned or sentence reduced. That matter is set for hearing March 9.
Deloney has been serving his time at the Wabash Valley Correctional Facility since he was sentenced. A Facebook profile for "Quintez Q-Ball Deloney" has 184 friends. The first update on the page was July 17, 2011.
A post on the page includes Deloney's prison mailing address. There are several posts about the case. On Oct. 11, he wrote that he was starting another appeal. On Oct. 15, he wrote, "beat anther case i feel like gotti did … BRR!"
In another message, he indicated he would be released in 2014 even though the Indiana Department of Correction lists his earliest possible release date as 2026. Most of the posts contain profanity and are not fit for publication in the News and Tribune.
At one point, someone asked how he had Facebook access in prison. He responded, "thats somethang thats kept secret!"
Susan Harrington, spokeswoman for Wabash Valley, said Cunningham's complaint has been filed with internal affairs investigators. Harrington said Deloney will be disciplined if it is true that he has somehow been posting messages from prison.
Wabash Valley does not allow inmates to have cell phones, and Harrington said they have no Internet access through legal means inside the prison. Most of Deloney's posts indicate they were made using a mobile device.
"Usually, if we find them with any kind of cell phone or communication device, it's confiscated and we go through disciplinary procedures," Harrington said.
Cunningham said she contacted Wabash Valley and Congressman Todd Young, R-Ind., asking for help to remove Deloney's Facebook profile. Cunningham said she is speaking out because she does not want family members of other murder victims to have to see pictures of their loved ones' killers or accomplices on Facebook.
Other states have also had to deal with inmates using Facebook. The California Department of Corrections announced in August that it had started reporting inmate pages to Facebook and that the company had agreed to delete pages that had been updated since the inmate was incarcerated. Facebook has a policy against anyone using a fake name or updating a profile for another person.
That move came after a convicted child molester accessed Facebook photos of his victim and sent current drawings of her to her home even though he had not seen her in seven years.
More than 1,760 contraband cell phones were confiscated from Indiana state prisons in 2010, according to Department of Correction records.