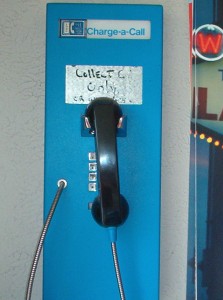 Providing prisoners secure cell phones is an idea whose time has come. The latest British prison to provide land-line phones in prison cells to control the contraband cell phone problem is being chosen for a trial of service. This is after a similar successful trial in a private UK prison. According to the article, the reason for this latest initiative is, "to stamp out the illegal use of mobiles in prisons and the flourishing black market in smuggled phones. It will also end the scenes, made familiar by television dramas, of inmates queuing to use public phones on prison landings."
Rather than undertaking the cost and hassle of wiring phones in cells, the benefit of using secure cell phones such as those provided by meshDETECT, would be that they can be handed out only to those who have earned them through good behavior. Still, this is a step in the right direction. The time has come to address the demand side of the supply-and-demand equation of smuggled cell phones in prison
Prisoners could soon have telephones installed in their cells, allowing them to make calls from their beds.
Officials are searching for a suitable jail to pilot the scheme and HMP Isis, a young offenders' institution in South East London, is believed to be the most likely choice. The prison can hold 252 inmates in single and double cells, and each cell would have a landline phone installed.
The move is intended to stamp out the illegal use of mobiles in prisons and the flourishing black market in smuggled phones. It will also end the scenes, made familiar by television dramas, of inmates queuing to use public phones on prison landings.
Many people will regard the move as another perk for prisoners – but prison staff are backing the plan.
Mark Freeman, deputy general secretary at the Prison Officers Association, said: 'We think it will improve control in prison.
'There is a major problem with mobiles at present. People smuggle them in and there is a massive black market. Others bring in SIM cards. The more business-minded prisoners run the operation like a BT monopoly.
'Then there are the problems with public phones on wings. There are complaints about long queues and inmates having phone cards snatched from them by bullies. Often only one of the three phones will be working.'
Mr Freeman said calls from cells would be recorded and monitored but insisted that, as staff would no longer have to supervise queues for the public phones, the scheme would save money in the long run.
Prisoners will have to pay for their own calls by buying phone cards or credit from the prison shop. They will also be issued with a personal account and PIN number which has to be dialled before getting an outside line. There will be no incoming calls.Inmates will have to supply prison staff with the names, addresses and phone numbers of people they wish to call
These lists will be vetted and agreed in advance to ensure that prisoners are not harassing victims or organising drug deals or other criminal rackets from behind bars.
Calls to sex lines and bookmakers will also be barred.
Precise details are still to be finalised and may vary from prison to prison. A Ministry of Justice spokeswoman said: 'The Prison Service is currently exploring the possibility of a pilot installation in a state-run establishment. We cannot be more specific about where the pilot site will be at this stage.'
The plan has angered some in the criminal justice system.
Chief Supt Derek Barnett, president of the Police Superintendents' Association, said: 'This sends a confused message to many police officers who have spent time and effort investigating serious crimes and seeing the perpetrators sent to prison.
'It's important for prisoners to keep in touch with their families, but it would be difficult for police, victims and the public to understand this latest idea.'
John Howson, a council member of the 28,000-strong Magistrates' Association, also accepted the importance of prisoners keeping in touch with family, but said a phone should be a 'reward for hard work and good behaviour'.
Harry Fletcher, assistant general secretary of the National Association of Probation Officers, warned of the dangers of abuse.
He said many men were in jail following serious harassment of women, often ex-partners, and that one jail ¬currently held about 40 stalkers.
The vetting system would have to be very thorough to ensure there was no abuse, Mr Fletcher said. 'Some women have had serious breakdowns and the danger is that the harassment could continue.'
Phil Davies, Conservative MP for Shipley, West Yorkshire, is to raise the issue with Ministers. He said: 'This is a ridiculous idea and is happening because the prison service is being run for the convenience of prisoners and staff.
'The point is to be able to reduce the number of officers on duty. It's another example of the justice system going soft, which makes the public lose confidence in it.
'Many prisoners have a better standard of living inside than on the outside. No wonder people ask why prison doesn't stop them reoffending.'
Phones have been installed in privately run prisons but this is the first time there has been a move to put them in state-run institutions.