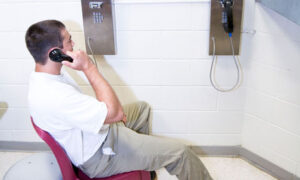 This is one of the best articles I have seen that demonstrates the problem of contraband prison cell phones can be solved simply by providing prisoners access to telecommunications services in their prison cells.
In the case of this British jail, that access was provided via land-line phones. But wouldn't a secure prison cell phone service be simpler and less expensive? In the case of this prison, the results of the in-cell telephony experiment were fewer smuggled phones, less violence, and even fewer failed drug tests!
Illegal mobile phones in jail are a challenging issue for the Prison Service. Thousands have been confiscated over recent years and thousands are still in daily use by prisoners. Tabloid newspapers tell us that the phones are used by criminals carrying on their business from inside. Why else would they need mobiles, they ask, when there are telephones on the landings of every jail in the country? But the headlines mask the truth.
Phones were installed on prison landings after the Lord Justice Woolf inquiry into the Strangeways prison riot in 1990. Before then, prisoners used to rely on letters; a slow method of communication for all, and impossible for thousands of illiterate prisoners. Woolf criticised the meagre contact between prisoners and their families, and recommended installing telephones on prison landings.
But getting access to a phone is not easy. Most prisoners can only call out during prisoner association periods. The times of these vary, but can be as little as one hour a day. This causes problems, and arguments and fights over calls are a regular occurrence.
Inside Time, the national newspaper for prisoners, published this from a prisoner at Risley jail, in Cheshire, who complained he was unable to call his seriously ill father every day: "There are four phones here on B wing, but only three work," he wrote.
"Association is from 6pm to 7pm, but it is usually 6.15pm before we are unlocked. There are 120 inmates on this wing; if we had the full hour and everyone had 10 minutes on the phone, that would allow 18 prisoners to make calls."
He went on: "Every act of violence I have witnessed here has been due to the phones, or lack of them. The situation is open to bullying and causes mental distress to those who can't phone home."
But there is a better way. At Lowdham Grange, a category-B prison in Nottingham, prisoners can make phone calls from landlines in their cells 24 hours a day. Prisoners there submit a list of numbers to be approved, then pay in advance for their calls, which can be monitored.
I ask one ex-offender just released from Lowdham Grange how many contraband mobiles were in the prison. "Very few," he says, "they are not needed, when men can phone their families at any time day or night." He admits to having used illicit mobiles in other jails, but only because the usual method of telephoning home was so restrictive.
But elsewhere, most prisoners resort to keeping an illicit mobile in their cell. Although some of these are smuggled in by prisoners, many are brought in by prison staff (there is a going rate for doing so).
One prisoner's wife says her husband regularly calls her on a clandestine mobile. She works evenings, so is unable to talk to him through legal channels. She accepts he is breaking prison rules, but believes regular contact is important. "I like to keep him abreast of family life, involve him in decision making, it makes him feel part of the family he is away from," she says. "But it would be nice to do it legitimately."
Lowdham Grange is operated by Serco, which has also installed landlines in some cells at Dovegate prison, Staffordshire. Serco is so confident that they are not being abused that it plans to install phones in all five jails it operates in England.
"The introduction of in-cell telephony at Lowdham Grange was followed by significant improvements in prison security, including a marked reduction in attempts to smuggle mobile phones into the establishment," says Vicky O'Dea, prisons operations director at Serco. "The number of prisoners failing random mandatory drug tests also fell following the introduction of the scheme."
She says the phones have made the prison safer. "Prisoner safety improved – there were fewer assaults, less bullying and fewer incidents of self-harm. Prisoners could make phone calls in more decent conditions, and the frequency and quality of contact with their families increased. Maintaining family contact is a proven factor in reducing the likelihood that prisoners will reoffend; consequently, introducing the phones led to an improvement in rehabilitation."
For now, state-run prisons have been reluctant to adopt the same stance. The prison service says it is "exploring the possibilities of a pilot installation [of in-cell phones] in a state-run establishment, as we recognise the advantages and benefits of such a system".
Meanwhile, most prisoners will have to keep hanging on.