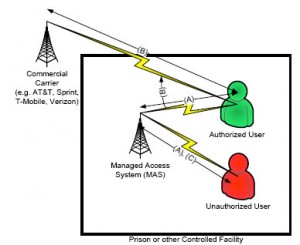 As we have written previously, the CDCR has forgone all prison telephone commissions as part of a new contract with Global Tel*link (GTL) in return for GTL installing managed access signal (MAS) jamming systems in all 33 of the CRDR's prison facilities.
However, the California Council on Science and Technology (CCST) released a report today advising the State of California to use security screening systems, similar to those in airports, in state prisons before investing millions in the untested MAS technology intended to block calls by inmates from contraband cell phones.
There are some very interesting insights to come from the report including:
During CCST's visit to two prisons (Solano State Prison and California Medical Facility) in January 2012, we had the opportunity to interview inmates, gathering a unique perspective on the contraband cell phone issue. The opinion expressed by some inmates during those visits was that cell phones used by prisoners allowed unfettered contact to family and loved ones otherwise unavailable. The question, "If cell phones were provided as part of the IWTS, and knowing that the calls were recorded, would this deter cell phone use?" was answered with a "no"; the inmates indicated that they were used to their calls being recorded when using the IWTS. There was also acknowledgment by the prisoners that a percentage – small by the inmates' estimation – of cell phone calls are used for illicit and illegal activity. It was noted by the CCST Project Team that access to cell phones (even if monitored by CDCR via computers with screening software) offers to many inmates an ongoing connection to family and friends, as well as entertainment on smart phones (such as games, videos  and ESPN sports games). Consideration could be given to piloting a method to screen contraband cell phone calls (rather than blocking) to better understand the impacts that the phones have on prisoner recidivism and overall prison temperament.

(Perhaps a through a trial of the meshDETECT secure prison cell phone solution? Our solution can be deployed immediately and allows the recording and monitoring of each call made.)
The only MAS system currently implemented in a U.S. correctional facility is the Parchman Prison in Mississippi. This system has been in operation at Parchman Prison since July 2010. According to the Mississippi Department of Corrections, this MAS is still a pilot operation and is not fully deployed due to operational issues. Roll out of the system to other Mississippi prisons is on hold until these issues are worked out satisfactorily. The equipment used at Parchman Prison is not the equipment previously tested in California at a CDCR facility.
Because of the paucity of system vendors, the lack of the ability to monitor interference outside of the subscribed area, and the lack of large-scale operational application of technologies used for MAS, there is no template of implementation techniques to model or follow for MAS. If the CDCR proceeds with the IFB as currently written, it would be important to note that each correctional institution installation will be a new learning experience, and each caveat would be discovered as it is installed. Although similar problems are likely to arise at each installation, solutions for each individual prison are likely going to vary significantly depending on a complex host of local factors.
The proposed MAS systems lack the finite systematic radio power level control capability necessary to prevent interference in real time. This means the only mechanism for interference mitigation would be by exception. For instance, when someone's cell phone service outside the prison is affected by interference, they would need to report it, and the cause could then be detected and corrected. The proposed MAS approach also lacks the capability to be simply modified for new cell phone communications technologies. Each and every upgrade of the MAS systems will be tantamount to a complete new installation. This, predictably, would be disruptive and could lead to long periods of inferior performance.
Since the MAS is a cell phone system with antennas and interconnect cabling and support computers it will need to be installed in highly secure areas away from inmate access to prevent tampering or destruction. The existing cabling systems in prisons will not support the RF signaling being carried to and from the antenna arrays and the transmitter receiver systems. All required MAS infrastructure will need to be newly installed.
If the prison is in or near a populated area, RF leakage could be highly disruptive to cell phone usage by the non-prison population. Among other things, this disruption could greatly reduce the capability of public safety professionals to serve the community's needs or the general public's ability to access a 911 operator.