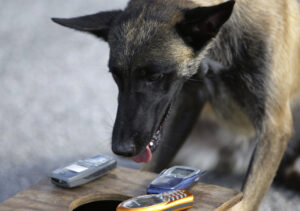 A news report about smuggled cell phone sniffing dogs used in the Arizona Department of Corrections. Highlights from the report include:
The dogs spend 9 weeks — 320 hours — learning how to detect cell phones.
Contraband wireless phones that can be bought for as little as $40 on the outside go for as much as $800-1,200 on the inside. They're smuggled in by friends and family during visits, by staff, even purchased during work detail.
The dogs are taught to locate and alert DOC officers to four distinct chemicals found in cell phones — ferric chloride, used to etch circuit board, rosin, promotes soldering, epoxy, used to fabricate the printed circuit board and lithium ion, gas from the battery.
One dog is stationed in every Arizona state prison, except the Phoenix facility, which is much smaller than the others.