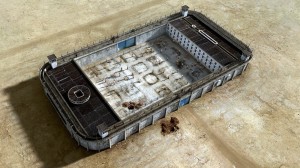 Update: We have submitted our thoughts on this complex issue to the FCC. You can read them here and download the actual filing here.
The FCC today issued FCC 13-58, Contraband Wireless Device Notice of Proposed Rulemaking (NPRM), to "remove barriers to the deployment and viability of existing and future technologies used to combat contraband wireless devices." The NPRM discusses current technologies such as managed access, detection, jamming and wireless carrier service termination of identified contraband cell phones.
Below are excerpts from the rulemaking document:
Inmate use of contraband wireless devices has grown within the federal and state prison systems parallel to the growth of wireless device use by the general public. In federal institutions and prison camps, GAO reports that the number of cell phones confiscated by the Federal Bureau of Prisons (BOP) grew from 1,774 in 2008 to 3,684 in 2010. While not all states track or report data on the use of contraband wireless devices, the data that has been reported demonstrates significant growth. For example, California correctional officers seized approximately 261 cell phones in 2006; by 2011, correctional officers discovered more than 15,000 contraband wireless devices. Further, a test of an interdiction technology in two California State prisons detected more than 25,000 unauthorized communication attempts over an 11 day period in 2011. A similar interdiction system permanently installed in a Mississippi correctional facility reportedly blocked 325,000 communications attempts in the first month of operation, and as of February 2012, had blocked more than 2 million communications attempts.
In this Notice of Proposed Rulemaking (Notice), we take steps to facilitate the development of multiple technological solutions to combat the use of contraband wireless devices in correctional facilities nationwide. Prisoners' use of contraband wireless devices to engage in criminal activity is a serious threat to the safety of prison employees, other prisoners, and the general public. Through this Notice, we seek to remove barriers to the deployment and viability of existing and future technologies used to combat contraband wireless devices. In this Notice, "contraband wireless device" refers to any wireless device, including the physical hardware or part of a device – such as a subscriber identification module (SIM) – that is used within a correctional facility without authorization by the correctional authority. We use the phrase "correctional facility" to refer to any facility operated or overseen by federal, state, or local authorities that houses or holds prisoners for any period of time.
We propose a series of modifications to the Commission's rules to facilitate spectrum lease agreements between wireless providers and providers or operators of managed access systems used to combat contraband wireless devices. Those proposed modifications are:
Revising the Commission's rules to immediately process de facto lease agreements or spectrum manager lease agreements for spectrum used exclusively in managed access systems in correctional facilities, and streamlining other aspects of the lease application or notification review process for those managed access systems in correctional facilities.
Forbearing, to the extent necessary, from the individualized application review and public notice requirements of Sections 308, 309, and 310(d) of the Communications Act of 1934, as amended (the Act), for qualifying managed access leases.
Establishing a presumption that managed access operators provide a private mobile radio service (PMRS), streamlining the process for seeking Special Temporary Authority (STA) to operate a managed access system, and seeking comment on whether to establish a requirement that managed access providers provide notice to nearby households and businesses prior to activation of a managed access system.
We also propose to require wireless providers to terminate service, if technically feasible, to a contraband wireless device if an authorized correctional facility official notifies the wireless provider of the presence of the contraband wireless device within the correctional facility. We seek comment on the elements of the proposed notification and termination process, including who should be authorized to transmit a termination notification to the wireless provider, the form of such termination notice, and any safeguards necessary to ensure that service to legitimate wireless devices is not inadvertently terminated. We seek comment on the implication of our proposals on detection and managed access system operators' compliance with or liability under Section 705 of the Act and federal law governing the use of pen registers or trap and trace devices. Finally, while we are limiting our proposals to managed access and detection solutions, we nevertheless invite comment on other technological approaches for addressing the problem of contraband wireless device usage in correctional facilities.
Further on in the document, it discusses managed access systems and some of the current deployments in state prison systems:
Managed access systems are micro-cellular, private networks that analyze transmissions to and from wireless devices to determine whether the device is authorized or unauthorized for purposes of accessing public carrier networks. Managed access systems utilize base stations that are optimized to capture all voice, text, and data communications within the system coverage area, which would be a correctional facility in the instant case. When a wireless device attempts to connect to the network from within the coverage area of the managed access system, the system cross-checks the identifying information of the device against a database that lists wireless devices authorized to operate in the coverage area. Authorized devices are allowed to communicate normally (i.e., transmit and receive voice, text, and data) with the commercial wireless network, while transmissions to or from unauthorized devices are terminated. The managed access system may also provide an alert to the user notifying the user that the device is unauthorized. The systems provide operational flexibility to the correctional facility administrators by allowing them to disable devices without having to physically remove them.
A correctional facility or third party at a correctional facility may operate a managed access system if authorized by the Commission. This authorization has to date involved agreements with the wireless providers serving the geographic area including the correctional facility and lease applications approved by the Commission. A number of deployments and trials have been conducted or are ongoing, as listed below.
California The California Department of Corrections and Rehabilitation (CDCR) has conducted trials of managed access systems at two state prisons. Based on the results of the trials, the California Technology Agency issued an Invitation for Bids for a prime contractor to provide a pay telephone system for inmates and wards and a managed access systems in correctional facilities across the state. The CDCR awarded the contract in April 2012 to Global Tel*Link (GTL), and its managed access operator has received experimental authorization to test a managed access system in nine facilities.
Maryland The Maryland Department of Public Safety and Correctional Services (DPSCS) conducted an in-depth analysis of contraband cell phone interdiction technologies in 2009. Maryland DPSCS conducted trials of various non-jamming technologies at a decommissioned correctional facility in Jessup, Maryland, and a real-world study of non-jamming technologies in three commissioned correctional facilities. Maryland DPSCS subsequently issued a Request for Proposals for the installation of managed access and detection systems in all of its prisons, and granted a contract to Tecore Networks (Tecore) to install a managed access system in the Metropolitan Transition Center in Baltimore City, Maryland.
Mississippi In 2010, the Mississippi Department of Corrections deployed a managed access system at the Mississippi State Penitentiary, a maximum security prison in Parchman, Mississippi. In its first month of operation, the system blocked a total of 325,000 call and message attempts, and has prevented more than 2 million calls and text messages through February 2012.
South Carolina South Carolina has conducted trials of a managed access system at its Lieber Correctional Institution in Ridgeville, South Carolina. The Commission has approved several spectrum leases sought by ShawnTech Communications (ShawnTech) for a permanent installation at the Lieber Correctional Institution, and the system is operational.
Texas The Texas Department of Criminal Justice announced in late 2012 that it would install managed access systems in two state correctional facilities. The Commission has approved a number of spectrum leases for ShawnTech for the managed access installations.