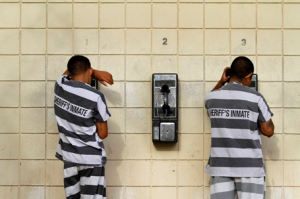 The first round of comments are in for the FCC Proposed Rule Making 12-375 (The Wright Petition), and advocates from both sides of the issue have submitted letters and comments on the price of interstate calls from prison.
Some cash-strapped states and facilities collect commissions from prison phone contracts. Texas, for instance, uses some of the money collected for a crime victims' fund.
Nationwide, states collect more than $150 million a year from prison phone commissions, according to a Prison Legal News survey. These commissions effectively raise call rates, but they also provide funding that states or prisons crave.
"Correctional agencies need those revenues either to lessen the financial burden that prison operations put on state and county budgets, or to implement programs that benefit inmates," Stephanie A. Joyce, an attorney representing Dallas-based Securus Technologies, advised the FCC in October.
Of particular interest amongst the many briefs, letters and comments was a study of Securus Technologies' prison payphone costs, commissions and prices across small, medium and large jails as well as state department of corrections (DOC) facilities. The following are some of the highlights from that report:
The costs incurred by Securus for the provision of ICS services to a typical institution in each facility group are summarized in Table 2. The ICS cost figures reflect the average costs incurred by Securus to provide ICS service. The costs include site commissions, bad debt, billing and collection, telecom facilities and services, validation, field technicians, and customer services:

The costs faced by Securus in providing ICS services can also be assessed on a per-call basis. As shown in Table 3, Securus incurred total ICS costs of $2.53 per call in serving the average High 10 facility. For Medium 10 facilities, the company incurred costs of $5.48 per call. For Low 10 institutions, on average, Securus faced ICS costs per call of $11.54 per call. Finally, for DOC facilities, the company's average ICS cost per call came to $1.51:

In Table 5, the average site commissions reported in Table 4 are divided by the total average costs required to provide ICS services for the facilities in each facility group. The ICS cost figures were previously reported in Table 2:

In Table 6, the average site commissions from Table 4 are divided by the average ICS revenue generated by inmate facilities in each of the four facility groups. The resulting percentages demonstrate the magnitude of site commissions as a function of the average calling revenue earned by Securus in each facility group:

The total number of interstate calls from all Securus facilities nationwide in 2012 was 9,122,432 calls. For the same year, the company processed 106,082,679 interstate minutes. Based on these two figures, the average length of an interstate call from a Securus facility in 2012 was 11.63 minutes.
Table 10 reports the calculated price per call that would apply for an interstate call of average duration that was generated by an average facility in one of the four facility groups. Note that the average call lengths assumed in Table 10 closely track the calculated average call lengths for the four facility groups:

Although it is never explicitly summarized in the report, here is the bottom line: (Using Table 10 to calculate the price per minute and subtracting costs per minute from Table 2)
High 10 = $1.09 price per minute vs. $0.17 cost per minute = $0.92 profit/minute
Medium 10 = $1.08 price per minute vs. $0.50 cost per minute = $0.58 profit/minute
Low 10 = $1.09 price per minute vs. $1.71 cost per minute = ($0.62) profit/minute
State DOC = $0.46 price per minute vs. $0.10 cost per minute = $0.36 profit/minute
Note: This profit analysis does not take into account intrastate and local calls, which are the majority of prison phone calls.
————————————————————————————————————————-
Methodology for the Securus data: Divide the non-DOC facilities into three groups. Each group contains ten facilities for which Securus provided ICS services in 2012. The three groups included the ten highest volume non-DOC customers ("High 10"), the ten medium volume non-DOC customers ("Medium 10") and the 10 lowest non-DOC volume customers ("Low 10") (collectively, the "10-10-10"methodology). For each customer, the volume used to determine membership in each group was based on total minutes.
In addition to these three groups, a fourth group was created consisting of all DOC facilities that Securus served in 2012, of which there are eight (8).
After review of the data provided for the 10-10-10 groups, it was decided to adjust the data as follows: First, a minimum contract revenue of $1,000 was adopted for the Low 10 group. This adjustment removed facilities with extremely low revenue totals that likely reflected measurement periods of less than one year. Second, outlier facilities in the original High 10 group were replaced by alternative facilities. The three outlier facilities reported volume and/or ICS revenue data that for known reasons are not representative of the High 10 Group.