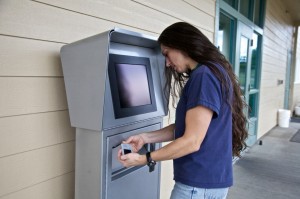 There are a number of interesting aspects to this deployment of new communications technologies in the Oregon state prison system. First, MP3 players will be able to receive text messages and photos. Also, for the first time, inmates can be contacted from the outside by phone. Family and others can leave a voice mail of up to three minutes on the prison payphone system. Wouldn't a secure prison cell phone solution that uses a single device for music, photos, text messages, outbound and inbound calls (with no maximum time limit), voice mail and even video visitation be more efficient than multiple devices, platforms, and kiosks?

Most Oregon inmates are finding it cheaper to phone home, and state officials hope they burn up the lines.
Flat-rate calls are part of a wave of new technology rolling out in the state's 14 prisons. Starting this week, the state's 14,200 inmates can buy MP3 players to receive text messages and photos, and to buy and store music. Another system will enable them to "video visit" families who are often hundreds of miles away.
State Corrections Department officials expect the technology to drive down recidivism and cut prison costs that now consume nearly a dime of every dollar in the state's general fund budget. Studies show inmates who have outside contact are less likely to commit new crimes once they are freed.
"We know scientifically that visiting is good not just in order to create safe prisons," said Colette Peters, director of the Oregon Department of Corrections. "It actually improves public safety and prevents future victimization."
The system won't cost taxpayers. The contractor, Telmate of Ontario, will cover equipment costs. Inmates and their contacts will split service costs. The Corrections Department will continue to collect commissions on the phone system totaling $3 million a year, which it spends on inmate programs.
Prison workers, able to contact inmates directly through voice or text messages, expect to save time.
"This enhances our productivity tremendously in ways we couldn't ever use tax money to fund. The cost would be prohibitive," said Kelley Morton, a Corrections Department policy manager. "This is very good for the taxpayers and DOC."
Under the new phone system, launched July 1, inmates in Oregon prisons pay a flat rate for domestic calls. That raised the cost for local calls. But now a call from the big prison in Ontario to Portland or Eugene costs $4.80 for a 30-minute chat, down from $15.85. Inmates and their families deposit money to cover the calls and can pay online through Telmate in addition to paying by mail or in person.
For the first time, inmates can be contacted from the outside by phone. Family and others can leave a voice mail of up to three minutes. Experience elsewhere shows messages don't sit for long.
"The average length of time for a voice mail to be picked up is a couple of hours. And no one is telling them they have a message," said Christopher Ditto, Telmate marketing director.
Video visits are expected to be another popular feature with inmates. The online chats are scheduled, and the outside contact pays the fee. The service starts next month in the two most remote prisons — Snake River Correctional Institution in Ontario and Warner Creek Correctional Facility in Lakeview.
Prison officials are most eager to get Snake River online. It's the state's largest prison with nearly 3,000 inmates — most from the west side of Oregon. To visit in person, many families have to drive six or more hours.
Inmate Brian K. Yancy, 35, convicted in 2005 in Jackson County of robbery and assault, served five years at Snake River. He saw his wife and three children three to four times a year because they faced a 10-hour drive from their home in northern Nevada. Two years ago, he was transferred to the Lakeview prison, still a three-hour drive one way.
The new video visiting "is going to benefit us a lot," Yancy said. "When the weather's bad, you worry about your family traveling through the mountains. And the economy isn't too good."
Yancy said he's especially eager to see his children, even online, on a monthly basis. "The kids can see me more often, and it will be like having both their parents around."
He said he expects the video visits to improve connections with his wife. "You can talk on the phone, but it's hard to have a relationship when you can't see that person," Yancy said.
The Oregon Corrections Department transformation is Telmate's largest. The company has converted county jails across the country, and two years ago rewired the state prisons in Montana.
Dale Tunnell, investigations chief at the Montana Corrections Department, said inmates made dramatically more calls. "They think it's great," he said.
The system also gives prison officials a new investigative tool. All calls, chats and messages are recorded, and state investigators can analyze patterns. "We've made some really good cases involving contraband," Tunnell said.
Oregon officials expect the same bonus. Call information "is very valuable for looking for patterns of extortion, theft, that kind of thing," Morton said. Inmates also will be limited to "corrections-friendly" music downloads.
Peters, the Corrections Department director, said the new technology should especially help the 59 percent of Oregon inmates who get no visitors. Inmates with outside contact behave better in prison and perform better when released, she said.
A landmark study of Minnesota inmates found that "any visit reduced the risk of recidivism by 13 percent for felony reconvictions and 25 percent for technical violation revocations."
Prisoners also will have better social media skills when they leave, Morton said. "When inmates get out, they often face a radically different world," Morton said. "If we can give them an opportunity to practice, this might help them be better prepared for doing online banking, and that that's how people communicate now — little bits of information."
How much to stay in touch?

Inmate costs*
MP3 player: 4G, $120; 8G, $140. Inmates can get a $25 rebate if they turn in a CD player, which can be converted into an illicit tattoo gun.
Domestic calls: 16 cents a minute, with 30-minute maximum ($4.80)
International calls: 50 cents a minute, with 30-minute maximum ($15)
Music download: $1.75 a song
Cost to others
Video visit: 66 cents a minute, with 30-minute maximum ($19.80)
Text message to inmate MP3: 44 cents; discounts for multiple messages
Photo to inmate MP3: 60 cents
Details: telmate.com
* Others can deposit money to cover these.