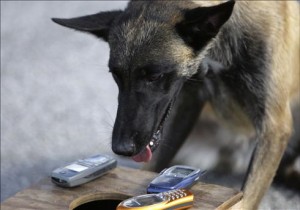 Buddy, a playful 1-year-old black lab, strikes fear into the hearts of Maryland's most dangerous criminals.
Dogs like Buddy are in demand worldwide with Maryland taking the lead in teaching law enforcement agencies how canines can detect the new prison contraband: Cell phones.
Maryland's innovative training of cell phone-detection dogs drew K-9 units from law enforcement agencies and correctional institutions from Washington, D.C., Kansas, Pennsylvania, Oregon, South Dakota and New Jersey for a recent three-day session in Hagerstown.
The specialty dogs have made such an impact that law enforcement from more than 25 different jurisdictions as far away as Israel and Canada are calling for advice, said Maryland Department of Public Safety and Correctional Services spokesman Mark Vernarelli.
"Cell phones have become such a problem within the last year or so that many jurisdictions have seen the tremendous proliferation of cell phones in prisons," he said.
Cell phones provide inmates with an easy, constant connection with the people and, consequently, lifestyle that resulted in their incarceration, he said.
To combat the problem, the department called on Canine Unit Command Maj. Peter Anderson, who bred the litter of puppies specially trained to detect cell phones.
Anderson, who hosted the training session, used Buddy to show the visiting agencies what to expect in the initial stages of training when dogs are learning how to find the phones inside boxes, shoes and even televisions.
"Cell phones are like everything else, they have their own unique scent signature, and once you get the dogs honed in on that scent, it's basically repetition," he said.
"As long as they find the cell phone and get rewarded for it, they're going to keep trying even harder."
Buddy, who is rewarded with a rubber ball, will be ready by early spring to join three dogs that have found 33 cell phones at state institutions in the past four months.
The dogs, which are more cost effective and reliable than machines that jam cell phone signals, also have acted as a deterrent for future cell phone smugglers, Anderson said.
The sound of paws padding along prison floors is followed by frantic inmates flushing toilets and dropping cell phones from upper levels to avoid being caught by a simple sniff.
Inmates, along with prison staff members and correctional officers, can face stiff penalties for contraband, such as criminal charges, said Rick Binetti, a Department of Public Safety and Correctional Services spokesman.
Inmates can face up to an additional year in prison, he said, and staff members can lose their job.