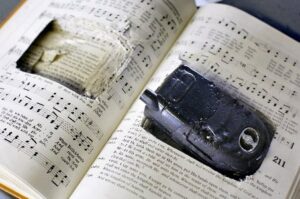 This news item highlights the corrosive effects the demand for contraband prison cell phones has on prison guards and other prison employees. Because the demand for illegal cell phones is so high, guards are paid to smuggle the phones into the jails. The demand for contraband prison cell phones would be significantly lessened by the introduction of secure prison cell phones such as those offered by meshDETECT.
A former state correction officer from Avenel pleaded guilty Monday to being a member of a network that smuggled pre-paid cell phones and drugs into Northern State Prison in Newark, Attorney General Paula T. Dow and Criminal Justice Director Stephen J. Taylor announced.
According to Taylor, Luis S. Roman, 47, pleaded guilty to racketeering and official misconduct before Superior Court Judge Mathias E. Rodriguez in Middlesex County. Under the plea agreement, the state will recommend that Roman be sentenced to 14 years in state prison, including five years of parole ineligibility. The charges stem from Operation Empire, a joint investigation by the New Jersey State Police, the Department of Corrections and the Division of Criminal Justice.
"As he participated in this elaborate smuggling enterprise, Luis Roman demonstrated how much he had in common with the criminal inmates he was supposed to be guarding," said Dow. "With this plea, he will officially join their ranks."
"This correction officer shamelessly betrayed his oath and compromised public safety by smuggling cell phones into Northern State prison, where they potentially could have been used by gang leaders to direct criminal activity in our communities," said Taylor. "We will remain vigilant with the Department of Corrections and State Police to address this threat posed by wireless phones in our prisons."
"People are put in prison to keep them from threatening public safety. This corrupt correction officer's actions put everyone at risk by allowing unmonitored cell phone calls from prisoners to potentially control outside crimes. Past examples have shown that this has resulted in "hits" ordered on witnesses and law enforcement personnel," said Major Matt Wilson, Deputy Superintendent of Investigations for the New Jersey State Police.
Roman and 18 other defendants who allegedly distributed contraband in the prison or acted as accomplices outside the prison were charged with racketeering and conspiracy in a state grand jury indictment obtained by the Division of Criminal Justice on Sept. 15, 2010.