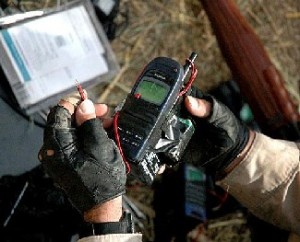 Prime Minister Binyamin Netanyahu announced that Israel would be toughening the conditions of imprisonment for terrorists but some jailors, it seems, did not "get the memo."
According to the Yisrael Hayom newspaper, two jailors have been caught smuggling cell phones to imprisoned terrorists. A third reported being offered a bribe for a similar action.
One jailor was arrested recently and questioned by the Unit for Investigating Jailors on suspicion he smuggled cell phones to Hadarim Prison.
Another jailor, a former officer at the Ketziot Jail, has begun serving a jail sentence after confessing and being found guilty of smuggling cell phones to terrorists.
In addition, a jailor at Ne'er Sheva Prison reported that a certain security [i.e. terror, Ed.] prisoner offered him a sum of 150,000 shekels for assistance in smuggling in a cell phone.
Israel Prisons Service Commander Lt.-Gen. Aharon Franco has recently said that he intends to show zero tolerance toward personnel who collaborate with the smuggling."
The terrorists have other creative means to get their hands on cell phones. In recent weeks, IPS has successfully stymied an attempt to smuggle 50 cell phones, 50 chargers and 50 SIM cards inside a delivery of vine leaves for terror prisoners at Ketziot.
A family recently visiting a terrorist tried to smuggle two cell phones in the undergarments of the prisoner's wife. Two matching batteries were placed in the belt buckles of his sons.
Another woman, aged 67, was caught at the gate to Ramon Prison with a cell phone in her brassiere.
Since January, a total of 76 phones, 55 chargers, 51 memory cards and 435 SIM cards were caught at the entrances to the prisons.
The IPS has instructed staff to carry out thorough checks on whoever enters the jails and is currently evaluated more advanced machines for scanning people who wish to enter.