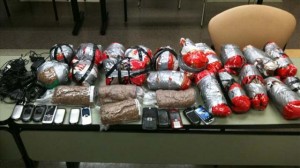 Kershaw County traffic officers made a prison contraband seizure while patrolling on I-20 Saturday.
Deputies say they conducted a traffic stop on Reco Maurice Bell of Columbia.
A routine driver's license check indicated that Bell was driving under suspension and operating an uninsured vehicle, said Kershaw County Sheriff Jim Matthews.
While interviewing Bell, deputies noticed two duffel bags on the rear seat of his vehicle and asked for permission to search.
The officers said in these two bags were 23 individually wrapped one-pound bags of tobacco and 12 individually packaged cell phones with charging cords.
The officers said they recognized this discovery as being consistent with contraband that is often thrown over the fence at prisons.
On the street, these items are of little value, but in prison, tobacco is valued at $800 per pound and a working cell phone is worth about $500, said deputies.
Authorities said when asked about the phones and tobacco, Bell admitted that he was being paid to throw these items over the wall at a corrections facility, but he would not state which facility.
Kershaw officers said Bell was charged with driving under suspension (2nd offense) and operating an uninsured motor vehicle.
According to Sheriff Matthews, a national criminal records check revealed that Bell was connected with the "bloods" street gang.