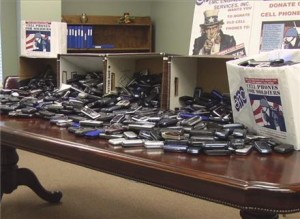 What happens to contraband cell phones confiscated from prisoners? Here are two articles discussing the donation of these smuggled wireless devices to soldiers and veterans through the organizations Cell Phones for Soldiers and Soldiers Incorporated respectively. We applaud the decision of these Michigan and Georgia prisons to make sure these contraband cell phones are put to good use after being confiscated.
LEESBURG, GA — The Macon State Prison donated 1,204 cell phones to a local business that's helping Cell Phones for Soldiers.
The cell phones EMC Engineering in Leesburg received from the prison were contraband from inmates and will now go to help soldiers overseas.
"The troops are using them to contact those back home. The distance is very far, and it's difficult being away from family, but it's easier when they can get in contact and communicate with those back home," says Matthew Inman, Branch Manager of EMC Engineering.
If you want to donate a phone, visit the EMC Engineering office at 1344 U.S. Highway 19 S, Suite A in Leesburg. You can also call them at (229) 435-6133 to schedule a pick up if you have a large number of cell phones.
If you have a loved one serving overseas and want to send them one of these cell phones, visit the Cell Phones for Soldiers website.
MAYVILLE — Cell phones could soon be confiscated from prisoners and given to veterans.
Sen. Mike Green of Mayville says the new legislation would prohibit from using or possessing cell phones. "Allowing prisoners to use cell phones is a threat to the safety of guards and the general public," said Sen. Green. "Cell phones can be used to plan escapes and traffic drugs. I supported this reform to ensure safety by getting these phones out of the hands of convicted felons."
If a prisoner were to be found with a cell phone, he/she could face felony charges punishable by up to five more years in prison and/or a maximum of $1,000 fines.
Under the bill, it would also be illegal for non-inmates to sell, give, or allow a prisoner to use a cell phone.
The confiscated cell phones wouldn't just end up in the garbage. Sen. Green says the ones that are still serviceable and no longer needed for prisoner prosecution would be donated to a program called Soldiers Incorporated that provides services to veterans.