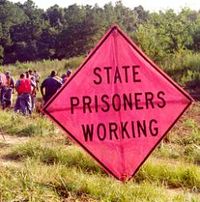 This article discusses the risk of work release prisoners smuggling contraband cell phones into prison when they return to the jail. It is widely known that many work release prisoners purchase cell phones and hide them outside the jail as well. They grab them when they leave in the morning and return them to their hiding spot on the way back to jail in the evening.
The meshDETECT secure prison cell phone solution can be provided to work release prisoners for sanctioned use to eliminate this issue. Because all calls are able to be monitored and recorded, they can even be safely brought back into the prison at night. As the article states, "This is not about keeping inmates from talking to their families, it's about preventing inmates from being able to attempt other crimes like escape." With meshDETECT, prisoners can talk to their families and prison administrators don't have to worry about unmonitored calls.
Best of all, with our custom GPS tracking feature, work release prisoners' locations can be monitored at all times.
Update (4/14): The DOJ just announced that it will require Federal Bureau of Prison halfway houses to boost services for inmates prior to release. The new rules also instruct federal work release facilities to provide cell phone access in order to help inmates seek employment opportunities.
It's all in a day served for inmates at Augusta's Richmond County Correctional Institution (RCCI), working outside the prison. But, that means RCCI has its worked cut out to prevent inmates from bringing stuff back inside.
"We go to every length to make sure the inmates, when they go out to work and they come back, they don't bring anything with them," says Warden Evan Joseph.
More than 90 percent of RCCI's 215 inmates work details, and working outside puts inmates in possible contact with members of the public, who could provide items to sneak into prison.
And, there's one item RCCI works overtime to keep out…
"Cell phones…it's not just unique here, it's a statewide issue. Even the Feds have this problem," says Warden Joseph.
"Anything that causes a problem, I think, would be a problem. Cell phones are…I don't think they should have them," says Catherine Perez, of Augusta, when asked about prisons keeping phones out.
"Because, who knows who they are calling on those cell phones, and what kind of plans they are making, and such," says Coral Blandin, understanding the problem.
Warden Joseph won't say exactly how many phones are found every year, but in December, 5 were confiscated at RCCI, and that's with metal detectors and strip searches.
So, how do these phones get in?
"I can't give you all the specifics, let's just say certain cavities has been the primary means of getting it in," Warden Joseph said.
"I wasn't aware of that, I think, that's disgusting," said Donavon Cherry.
"That's just horrible, that's disgusting," added Blandin.
It's also a felony. Georgia state law says its one to five years for an inmate to have a cell phone and it's also a felony for someone to provide a cell phone to an inmate.
Also, an RCCI inmate with a phone gets a date with Captain Lance Peebles. The Security Chief gets the call when an inmate back from detail sets off the metal detector.
"Because we know there's something inside him, and he's sitting naked, we know he's got something in him. He has a choice…either work with me and give it to me then, or we send him to medical where it will be removed, or I'll go get it and I got big hands," says the Security Chief, holding up his large right hand.
Warden Joseph says this is not about keeping inmates from talking to their families, it's about preventing inmates from being able to attempt other crimes like escape
"It's a public safety issue, not only is the public at risk, but staff, other inmates," said Joseph.
Monday, RCCI inmate Charles Moore got away from a work detail at a city cemetery. Warden Joseph says a cell phone played a role in the escape.
Moore was captured hundreds of miles away.
That's why prison's want them out…no ifs, ands, or buts.