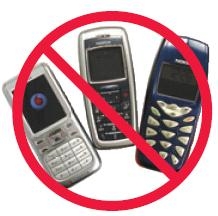 This article discusses the abandonment of a potential law to make it illegal to smuggle cell phones into prison in California. It mentions how most smuggled prison cell phones are used by prisoners to keep in touch with their families and the importance of that contact in reducing recidivism.
A proposal to make it illegal to smuggle a cell phone into California's prisons, or be caught with one inside the prison has been dropped – as it would be too expensive to implement.
Although forbidden by regulations, Californian is one of the few US states that has not upgraded the possession of a Cell Phone inside a Prison to a criminal activity, unless it can be proven that the phone was used by the prisoner to commit a crime. As a result it is claimed that smuggling of phones into the prisons is rampant, with an estimated 11,000 handsets confiscated in 2010.
Famously, prison guards have recently confiscated a cell phone from the notorious murderer, Charles Manson – twice.
Deputy Corrections Director Richard Subia said that: "We've found them in walls, put down inside of walls, inside of toilets, in peanut butter, in garlic…" Subia says you'd be surprised.
Subia says prison visitors, men and women, young and old, smuggle phones to inmates. So does a full spectrum of prison workers. "We had an officer that we stopped in one of our Northern California prisons who said he made $100,000 one year for bringing in cell phones."
State Senator Alex Padilla (D-San Fernando Valley) had proposed a bill that would make it a crime to smuggle a phone into prison and would also result in longer sentences for prisoners caught with a cell phone.
However, California's Department of Finance estimated the longer sentences could cost up to $50,000 more per year, per inmate.
Therefore the bill was dropped by the Senate Appropriations Committee.
It has been argued before though that while many phones are indeed smuggled into prisons for criminals to continue to direct their illegal activities, the majority are simply used by prisoners to keep in contact with their families. The cost of a landline phone call often being prohibitively expensive for prisoners it can lead to a break-up of existing family relationships, and remove an important support mechanism when the prisoner is eventually released.