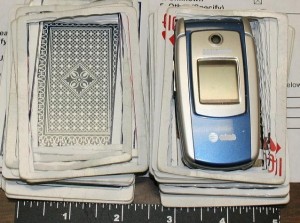 This article discusses the ineffectiveness of a two year formal program to stop contraband prison cell phones.
A two-year operation to intercept cell phones being smuggled into state prisons by employees has produced modest results and done little to stem the flow of contraband devices to inmates, according to state data.
Since 2009, authorities have seized 432 unauthorized cell phones from employees in random searches at adult prisons across the state.
It's unclear how many of those devices were intended for the lucrative black market, said Terry Thornton, a spokesperson for the California Department of Corrections and Rehabilitation.
"Some people just forget to leave their personal cell phones at home," she said.
The phones confiscated during "Operation Disconnect" represent just a fraction of the total number of cell phones circulating among inmates.
Last year, more than 10,000 devices were seized from inmates or found abandoned in cells, common areas and on prison yards. Authorities believe the actual number of phones being used by inmates is much higher.
In the prison black market cell phones can fetch prices of $1,000 or more.
While some inmates use the phones to communicate with friends and family, there are documented cases of prisoners using the devices to facilitate crimes and harass crime victims and witnesses.
The problem gained notoriety over the past year when authorities twice discovered contraband cell phones being used by convicted serial killer Charles Manson.
Under "Operation Disconnect" prisons are required to conduct monthly random checks on staff as they enter state facilities.
However, the searches usually do not cover all facility entrances and do not stretch to more than one work shift. Unlike some other states and the Federal Bureau of Prisons, California does not routinely search prison employees on their way into work.
In contrast, all visitors are required to pass through metal detectors before they enter state prisons. It remains unclear whether visitors contribute significantly to the cell phone black market since the department of corrections does not collect data on the number of devices confiscated from non-employees.
Corrections officials say the results from "" support the department's view that there is no single source for illicit cell phones.
"They (contraband phones) come in through many ways – staff, vendors, contractors, packages, visitors, outside work crews," Thornton said. "We have found them in the garbage, in cereal boxes, in hollowed out Bibles, in shoes, in footballs, in body cavities, in a can of food."
Prison officials expressed some disappointment but said they never expected the operation would wipe out the black market in cell phones.
"It's a piece of what we're trying to do," said Richard Subia, a corrections deputy director.
Subia said he would like to see the state establish "airport-style screening" at every adult prison but "fiscally we can't do that."
However, prison officials are planning to invest millions in technology they hope will block calls from unauthorized cell phones.
"So even if the phones get into the prisons, they can't be used," Subia said. "They would be worthless."