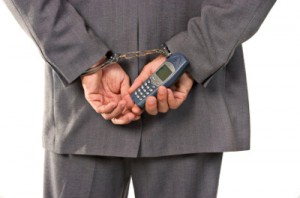 This is another example of the corrosive effects of the demand for contraband prison cell phones. A secure prison cell phone service would eliminate a great deal of the demand for contraband cell phones and allow prisoners to keep in contact with family members, while offering a new source of revenue for prisons.
Luis Roman spent 18 years as a corrections officer, but now he could spend 14 years on the other side of the bars for sneaking cell phones and drugs to inmates.
Roman pleaded guilty today to racketeering and official misconduct charges for running a smuggling network at the Adult Diagnostic and Treatment Center in Avenel and then at Northern State Prison in Newark.
"This wasn't a single cell phone," Department of Corrections Commissioner Gary Lanigan said. "This was a criminal enterprise."
State officials said they will seek a 14-year prison term with five years of parole ineligibility at sentencing on Oct. 3.
Authorities said Roman, who has been free on $100,000 bail and appeared in court wearing an open-collared black shirt, made thousands of dollars in an operation involving 35 other people.
"As he participated in this elaborate smuggling enterprise, Luis Roman demonstrated how much he had in common with the criminal inmates he was supposed to be guarding," Attorney General Paula Dow said in a statement. "With this plea, he will officially join their ranks."
After the plea hearing, Roman's attorney, Ruben Scolavino, said his client "has taken full responsibility for his actions. He's happy to get this behind him."
Authorities said Roman smuggled prepaid phones, cocaine, heroin and marijuana into prison several times a week, hiding the items in his protective vest and boots.
Corrections has since taken steps to make it harder for smugglers, Lanigan said. Within months, he said, officers at Northern State Prison will test new protective vests to be worn over shirts. These will be easier to remove and scan before officers enter the prison, he said.
"We are very serious about stopping the flow of cell phones," Lanigan said.
Investigators from the Department of Corrections began suspecting a corrections officer, or other prison worker after phones of the same makes and models were confiscated from inmates. Working with the State Police, they eventually targeted Roman, who was arrested Nov. 14, 2009.
Officials said inmates' relatives and friends were accomplices, buying the phones and drugs and packaging them for delivery. Inmates wired money to Ann Marie Roman, 37, of Woodbridge, who is now Roman's ex-wife. She pleaded guilty in September to conspiracy to commit bribery, admitting that, at her husband's direction, she received thousands of dollars through Western Union and MoneyGram as payment for smuggled items.
Besides Roman, 18 other people were charged with racketeering. Five have pleaded guilty, said Paul Loriquet, spokesman for the Attorney General's Office.
Sixteen inmates were accused of buying phones. Eight have pleaded guilty.