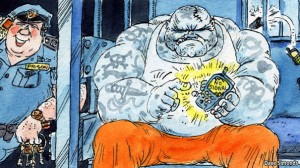 A Texas Tribune investigation has found that few inmates or correctional officers face legal consequences for smuggling cellphones even as prison officials have intensified efforts to keep the devices out of prisons. Just 5 percent of cellphone smuggling cases investigated by the Criminal Justice Department's Office of Inspector General from 2009 to 2013 resulted in a criminal sentence, according to documents obtained from the office through a public information request.
Some notable excerpts from the article:
In 2003, legislators made smuggling the devices into prisons a felony. Since 2009, the state has allocated $10 million every two years for "security enhancements for contraband interdiction," said Robert Hurst, a Criminal Justice Department spokesman.
The enhancements include a special K-9 unit responsible for sniffing out cellphones, increased video surveillance of guards and the addition of "managed access systems" at two prisons that intercept all but a few specified outgoing cellular signals.
The costs of the offender telephone service are "so high, that's one of the reasons why inmates turn to cellphones," said Michele Deitch, a prisons expert at the University of Texas at Austin. "They really need the phone access, which promotes healthier families, but at those rates it becomes an incredible burden on the families." A phone call with the service costs up to 26 cents per minute.
For guards, who risk their jobs and felony charges by dealing in contraband, the financial reward can be much larger than their salaries.
"The temptation is there, if there's not a strong deterrent to misbehavior," said Pelz, the former warden, adding that a smuggled cellphone can fetch up to $3,000. "Your weakest link is the employees bringing the contraband in."
Lance Lowry, president of the Texas correctional employees local of the American Federation of State County and Municipal Emlpoyees union, said many who resort to smuggling were trying to supplement low wages. Entry-level correctional officers make about $29,000 a year. At that rate, one cellphone could amount to 10 percent of an officer's annual salary.