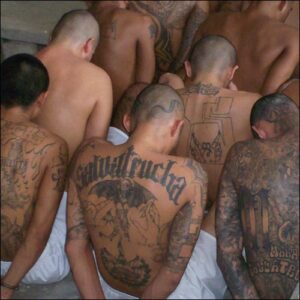 An interesting article about the growth of gangs in prison in Idaho and the increase in smuggled contraband cell phones as a result. Part of the strategy, as in other states such as California, is a legistative initiative to increase the penalty for smuggling cell phones. The article quotes an official, "We want to make it a felony to introduce cellphones within a prison. If they can make calls without going through the monitored phone system, they can coordinate attacks, they can coordinate riots. They can continue to operate as a leader while they're incarcerated." The meshDETECT secure cell phone solution monitors all calls made through our cell phones.
Nearly half of the 392 inmates at Idaho's maximum-security prison last month were identified as gang members. And of the 7,145 total prisoners at the state's varied prisons and work centers, more than 18 percent — 1,311 — were identified as gang members. That's up from about 16 percent in May 2010.
"It's not a drastic increase, but we have definitely seen the numbers go up," said Deputy Warden Tim Higgins, the Department of Correction's longtime gang expert. "Every facility has gang members. Men, women, close custody, minimum security."
Gang-related violence, reportedly on the decline in Canyon County and other communities in recent years, is a growing problem within the prison system.
"Eighty-four percent of all of our violent acts inside the prisons involved one or more gang members," Higgins said. That statistic comes from a study at the end of 2008, he said, but the trend hasn't abated.
WORKING TOGETHER
Spread among Idaho's eight state-run prisons (two more are privately operated) and five community work centers, Higgins and the 27 IDOC investigators who focus on gangs have a lot to handle. And one of their chief challenges is to make sure incarcerated gang leaders can't maintain their grip on communities from within prison walls.
That can be a daunting task, since those gang leaders have plenty of time and motivation to come up with creative ways to outwit their captors with smuggled cell phones or Facebook pages maintained in their names by friends or family outside prison.
IDOC investigators work closely with local law enforcement agencies to share intelligence and control the flow of information and contraband between inmates and free gang members.
One recent investigation started with intelligence gathered in a prison mailroom and eventually involved 13 agencies, two states and three years. Dubbed Operation Black Magic, it led to state and federal charges last spring against 30 members of the Brown Magic Clica, a gang active in eastern Oregon and Southwest Idaho.
Eight of those arrested were already in prison. The cases are at various stages in the court system.
"It started with a mailroom officer who intercepted a piece of mail about a gang-related hit that was going to happen in Nyssa," Higgins said.
Investigators contacted local police, who warned the intended victim and worked with IDOC to monitor communication between gang members inside and outside prison. The Treasure Valley METRO Violent Crimes Task Force stepped in and unraveled a web of conspiracy and Clica crime.
UNDER THE RADAR
Prison gang numbers could be significantly higher than investigators know, Higgins said. Many gangs, like Brown Magic, operate in rural areas where law enforcement doesn't have the manpower to track and document gang members.
Members of those gangs, sent to prison for drug crimes or other offenses, could slip under the prisons' radar if they don't sport telltale tattoos or brandish gang signs.
"More than 50 percent of the gang members fall into that category," Higgins said.
Prison staff trained in the ways of gangs often can identify gang members through their behavior, he said. Even those whose skin advertises a gang affiliation are ultimately judged by their behavior, not their markings, he said.
"We track very closely all evidence of gang affiliation, but we try to avoid labeling people," he said. "We believe somebody can change."
INTERMIXING AND ACCOUNTABILITY
The keys to prison gang management and intelligence gathering, Higgins said, are vigilance, accountability and not segregating gang members.
Idaho inmates aren't sorted by gang affiliation, he said, since that strengthens the cliques and traps those who want to break free.
Instead, he said, inmates are expected to mix whether they're among rivals or people with no gang background.
And then they're watched very closely.
"We have absolute zero tolerance," he said. "If we see three suspected gang members having a meeting, we jump on it."
Mixing prisoners and holding them accountable for their behavior has worked well in the state-run prisons, he said, but may not be the model in the private Idaho Correctional Center, where Idaho's biggest problems with gang-related violence occur.
ASSAULTS ABOUND
Run by Corrections Corp. of America, ICC is Idaho's largest prison, and nearly 19 percent of its 2,000-plus inmates are suspected gang members. The 11-year-old private prison has drawn numerous lawsuits from inmates, and a recent Associated Press investigation showed ICC prisoners are more than twice as likely to be assaulted as those at other Idaho prisons.
Higgins, who was promoted to deputy warden overseeing the state's contract with private prisons just weeks ago, said ICC has improved its handling of gang violence. One of his primary focuses will be to help them improve more.
The private prison operates under contract with the state and is required to comply with Department of Correction policy on gang management, which is different from the approach in other states where Corrections Corp. runs prisons, he said.
Gang violence is still all too common in the state-run prisons, too, he said, but one positive sign is that gang-related assaults now tend to be less severe because inmates know they'll be prosecuted if they cause serious injury. That's especially true at ICC, he said, where the total number of assaults has held fairly steady but the brutality has eased.
"If it's simple battery, it's a misdemeanor, but with aggravated battery that's some hard time, plus gang enhancements," Higgins said, referring to the additional two years for gang-related crime called for under Idaho's five-year-old gang enforcement law.
"I wish we could stop it totally, but it's kind of built into their (gang) culture."
With the new gang law and concerted investigative effort, Canyon County police and prosecutors have put a dent in once-soaring gang violence statistics. In Caldwell alone, police went from investigating 100 drive-by shootings in one month of 2004 to having about eight total in the past four years.
"We've certainly seen less of that than two years ago," said Ellie Somoza, a deputy prosecutor who's handled Canyon County gang cases for the past six years. "The felony crimes we've filed charges on have all resulted in felony convictions, and most of them have gone to state prison."
LEGISLATIVE WISH LISTS
With the legislative session approaching, Higgins has two gang-related proposals he hopes will become law this winter. Somoza said her prime legislative objective, which likely will have to wait a year, is changing the law so any juvenile who commits a drive-by shooting would be automatically tried as an adult.
Although the incidents are down appreciably in the past few years, she said, Canyon County has seen far too many instances in which gangs chose underage shooters to spray homes or cars with bullets, on the assumption they won't face more than a couple of years in juvenile detention.
"There's nothing more dangerous than a drive-by shooting," Somoza said. "It's an absolute disregard for human life. You never know who's inside and who'll get hit."
Underage shooters have proven to be particularly reckless, she said, recalling one Caldwell spree of 11 drive-bys in just a few days. The five juveniles involved chose their targets so casually, she said, that one of the houses they shot up was a rental where "someone just thought they remembered that someone from a rival gang used to live there."
Higgins' legislative wish list aims to make it harder for gangs to operate from prison.
One proposed bill, aimed at drying up a key money-making endeavor for prison gangs, would make it a felony to smuggle into prison or possess in prison more than a certain amount — probably 3 ounces — of tobacco.
"A can of Bugler (a brand of roll-your-own tobacco) you could buy for 99 cents on sale is worth $40 inside the prison," he said. "And the gangs are nearly always in control of any big quantity of tobacco."
The other law he hopes will pass this winter would fight one of the biggest problems gang investigators face: contraband phones.
"We want to make it a felony to introduce cellphones within a prison," Higgins said. "If they can make calls without going through the monitored phone system, they can coordinate attacks, they can coordinate riots. They can continue to operate as a leader while they're incarcerated.
"But right now if we catch them with a cellphone, it's just a disciplinary offense, and it doesn't mean anything," he said.
In the past year, prison staff confiscated 18 cellphones from inmates, and there are likely numerous others they never found. Officials don't know who smuggled them in or how, he said, but all of the devices found were prepaid phones that are hard to trace to individuals — especially since savvy prisoners conceal the SIM cards separately from the phones.
IDOC has some cellphone detection equipment, including a phone-sniffing dog at the medium-security Idaho State Correctional Institution. Officials hope to add more sophisticated equipment soon.
"It's a huge deal," Higgins said. "If we lock someone up in prison, we need to make sure they can't continue to do business and do harm to the community. If they do, I take great offense at that."