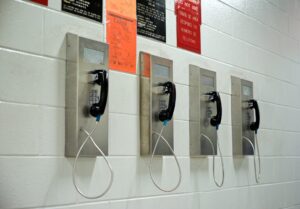 The UK Justice Secretary recently announced that more prisoners will get in-cell phones to help maintain the family ties which can cut re-offending by 40%. The Justice Secretary unveiled plans for a further £10 million roll-out of in-cell landline telephones to help prisoners preserve relationships with their own loved ones and reduce tension on prison wings.
In justifying the investment, the announcement highlighted the three main benefits of enhanced communication:
Family ties are a vital part of rehabilitation, an important link over the festive period, and ultimately help to cut the number of future victims of crime
Restricted in-cell phones will also reduce both tension on the wings and demand for the illicit mobiles which fuel violence
The roll-out is part of wider efforts to bring stability to prisons and boost inmates' prospects of rehabilitation
Similar to the traditional bank of prison wall phones, all calls on in-cell phones are recorded and can only be made to a small number of pre-approved numbers. In the event that they are suspected of being used for criminal activity, calls can be monitored, and prison administrators can remove the phones of those who have misused them.
In a subsequent interview, the Justice Secretary stated that the in-cell phones would not be able to receive phone calls, unlike an illegal mobile phone.
"At the moment they can only make calls out, and that is not true with mobiles. Families come under huge pressure to phone into mobiles that are held illegally in prison and that can be very difficult for them," he added. What is different is that if someone is in absolute crisis in the middle of the night, they can actually phone someone they love rather than asking a prison officer who is patrolling the entire wing."
He also stated, "In-cell telephones provide a crucial means of allowing prisoners to build and maintain family relationships, something we know is fundamental to their rehabilitation. Introducing them to more prisons is a recognition of the contribution I believe in-cell telephones make to turning prisons into places of decency where offenders have a real chance to transform their lives."
Response to the plan has been varied. An ex-prisoner interviewed made the following points:
A great initiative and a step in the right direction, it may ultimately fail to achieve the government's ambitious goals.
The prison phone is too expensive and instead prisoners should be able to receive incoming calls via the prison pin system.
The importance of family ties in prison is massive and supporting a loved one in prison can be the difference between life and death. I think it would reduce self-harm and suicide.
He questioned why the roll-out is costing £10 million, one third of the additional £30 million allocated to prisons in the last budget, particularly given the phone lines are already in place.
Most illicit mobiles in prison are in fact used only for keeping in touch with loved ones rather than criminal behavior.
Our view is that the philosophy and intent of this initiative is correct, but the implementation is deeply flawed. The reasons for this are twofold:
The £10 million cost is a wasted capital cost that could be used for other investments (not to mention the ongoing operating costs to maintain, repair and replace). Why incur the handset and wiring expense when secure prison cell phone solutions such as meshDETECT cost nothing to the prison to deploy and maintain?
Handsets on walls do nothing to improve the digital literacy and technological competency of inmates. In a recent interview the MoJ digital chief stated, "Prisons have been bypassed by the digital revolution. I think the opportunities of digital in that space are huge, and I'd like to leave a legacy of work that will take years to deliver, where we move much more towards a [situation] where, when you're in prison, you can do useful things in your cell."
What "useful things" can an inmate learn, accomplish, or gain in terms of digital literacy and technological competency by using a payphone handset connected to the wall of his cell?