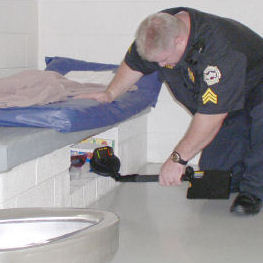 A visit to California State Prison Corcoran was cut short Sunday when investigators smelled marijuana on a woman as she passed through security, a prison spokeswoman said.
Tisha Diane Holt was found with more than 2 ounces of concentrated marijuana hidden in her belongings. She consented to a search by prison staff and was arrested when they found the drugs, prison spokeswoman Teresa Cisneros said.
Holt, a certified nursing assistant from Los Angeles, was booked into custody for suspicion of conspiring to commit a crime and seven narcotics-related charges, including a special allegation of supplying a controlled substance.
She remained at the Kings County Jail with her bail set at $230,000 Monday.
This arrest was not the first time this year someone has been arrested for prison drug smuggling in Kings County.
The number reached 10 in March when Corcoran Prison's Investigative Services Unit and the Kings County District Attorney's Office busted two people for conspiring to smuggle drugs and cell phones into the facility.
Contraband continues to be a major problem for prisons across the state, with cell phones quickly becoming the hottest commodity. State Sen. Alex Padilla, D-Pacoima, said earlier this year that more than 10,000 cell phones were confiscated in state prisons during 2010 alone.