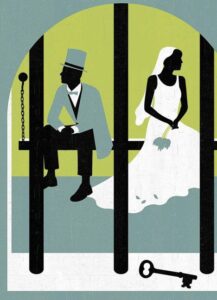 Despite the many sensationalist press accounts of prisoners using smuggled contraband cell phones to plot crimes or run criminal enterprises from within jail, the vast majority of prison cell phone use is detainees talking to loved ones.
It has been shown that increased communications between detainees and loved ones helps to keep families together during incarceration and reduces recidivism. Incarceration is a strain on all involved, as this article demonstrates, and leads to the smuggling of cell phones in an attempt to keep a marriage intact.
A prisoner who hid a mobile phone up his bottom claimed he was using it in a desperate last-ditch attempt to save his troubled marriage.
Drug dealer Paul Nolan was found with the phone clenched between his buttocks after a period of home leave was granted by Castle Huntly prison.
Nolan, 45, arrived back at the jail after seven days at home with his wife, who told him that she was planning to bring their marriage to an end.
He handed prison officers an iPhone that he claimed he had accidentally brought back with him and was sent to his cell.
However, a short time later a search of his cell was carried out and a second phone was found.
Nolan, who is serving more than six years in jail after a raid on his Cambuslang home netted £300,000 worth of drugs, had secreted the phone in his bottom.
But he was unable to clench his buttocks tight enough to hold it in place and it fell to the ground when he stood up during the search on September 14 this year.
Fiscal depute Carol Whyte told Perth Sheriff Court on Wednesday: "The accused returned from a seven-day period of home leave. He spoke to members of staff and told them he had accidentally brought an iPhone with him.
"A routine search of his cell was then carried out at 9pm. At that time he was lying on his bed. Officers gave him a full search. They spotted a Samsung phone on the ground which fell from his buttocks."
A charger was also found connected to a games system.
The accused has been moved to HMP Addiewell in West Calder.
Solicitor Linda Clark, defending, said: "He enjoyed privileges in Castle Huntly and part of that was home leave. During his period at home his wife indicated she had initiated divorce proceedings.
"During the seven days he made attempts to try and dissuade her. He surrendered the iPhone when he got back. When he got to his cell an offer was made to him regarding another mobile phone.
"Stupidly, he purchased that solely with the intention of keeping up contact with his wife in the hope he could dissuade her from proceeding with the divorce action."
Ms Clark told the court that Nolan's efforts had failed as his wife was carrying on with her divorce bid and she said he accepted he breached the trust placed in him by prison chiefs.
Nolan admitted having an illicit mobile phone in prison and he had a further 20 days added to his sentence.
He had been moved to the low security open prison just over a year ago after being jailed in March 2010 for drug dealing.