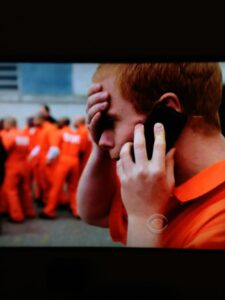 Here is the latest summary of recent news articles regarding contraband cell phones in prisons around the world. I am calling this round up of articles, "Wireless Prison Payphone™ Briefs" because this is essentially what smuggled mobile phones in jails have become – a substitute for the current wall mounted prison payphones.
Alabama Inmates With Illegal Cell Phone Active On Facebook: "Cell phones are against the law, that's a new bill that just passed last year, making the possession, or the introduction of a cell phone into a prison setting a class C felony," Corbett explains, though he still is not surprised by the discovery.
"Last year we confiscated more than 5,000 cell phones statewide." The Department also has a policy against inmates using social networks. It's clearly posted on the DOC's website that such sites "are a security violation and will be shut down." (Source)
Cat Caught Smuggling Saw, Cell Phone, Into Prison: The cat's out of the bag, and that means prisoners at a prison in northeast Brazil will no longer have easy access to cell phones and saws.
Upon inspection, officials noticed that the feline was wrapped with tape. Underneath that tape was a battery of items including a saw, cell phone, drills, an earphone, memory card, batteries, and a phone charger. (Source)
Fourth Circuit to Hear Dispute Over Cell Phone Contraband Conviction: Here's the issue: Did Beason have "fair and sufficient notice" that his possession of a mobile phone opened him up to criminal liability? Beason's attorneys, Brian Kornbrath and Kristen Leddy, who work for federal public defender offices in West Virginia, contend the old law is unconstitutional for its vagueness. A cell phone, the attorneys said, "has a legal purpose and productive uses, which can carry over to the prison environment."
"The vast majority of cell phone possession cases in federal prisons have been resolved through administrative sanctions within prisons, not in federal courts," Beason's lawyers said in a brief in the Fourth Circuit. "Beason was not given sufficient notice that his possession of a cell phone would subject him to federal criminal penalties." (Source)
How Cell Phones Make Prison Drug Dealing Easy: Despite a lack of resources and an isolated consumer base, US correctional facilities host a thriving drugs market. But the limitations and monitoring imposed on the use of prison phones are an obstacle. "You can't set up nothing on the regular prison phones because they are monitored," one prisoner tells The Fix. "They record everything and when you are trying to make a move, you don't want no one eavesdropping on your conversations so that they can make a bust or put the brakes on." The solution isn't hard to imagine: "With cell phones it is easy. No one is listening and you can talk freely. Once you got a cell phone, anything is possible."
Of course, cell phones retail at a premium behind bars: Prisoners will pay up to $1,500 for one. But they're not that difficult to find. "If you have money you can get a phone easy; you can get an iPhone with Internet access or whatever," the prisoner says. (Source)