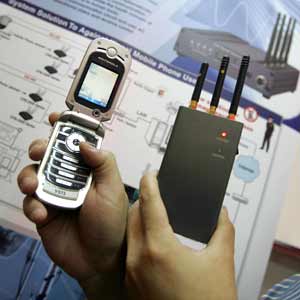 This article highlights some of the challenges and issues associated with the use of wireless signal jammers to stop the use of contraband cell phones smuggled into a prison in India.
With a spate of murders and extortions being abetted from Puducherry Central Prison in India by criminals inside, the Jail authorities have woken up and have taken stringent measures.
A team of security personnel on special duty seized a dozen cellphones from the jail premises since Thursday.
Jail superintendent Jayakandan and nine Jail warders have been chargesheeted for the use of personal cellphones inside the prison premises, said IG Prisons, Pankaj Kumar Jha. The prison rules state that no one is permitted to use cellphones inside the premises, except a few senior officials.Despite the installation of three jammers inside the prison and x-ray baggage scanner at? the entrance, the use of cellphone in prison has gone uncontrolled.
Three prisoners were given an additional three months imprisonment for possessing cellphones inside the Central Prison Puducherry by Judicial Magistrate-I Puducherry District Court in August last, but even that has not deterred the inmates.
Usually, cellphones reach the prisoners when they are taken out to court or a hospital. Sometimes, cellphones are thrown into the prison complex from outside, sources said.
The three jammers installed in the prison are not enough to block the cellphone signals in the entire premises. As the second phase of construction of prison complex is to begin, more towers with jammers cannot be installed to cover entire area.Further, power failure also adds to the problems of the jail authorities as the jammers do not work during outages. However, on completion, towers at appropriate place could be erected to jam mobile signals in the entire prison area, said Jha.
The prison is also short of staff. Though 42 posts of Assistant Superintendent of Jails (ASJ), Warders, Principal warders have been filled up, 18 warders and five ASJs have gone on training, which is expected to get over in four months.
Hits: 0