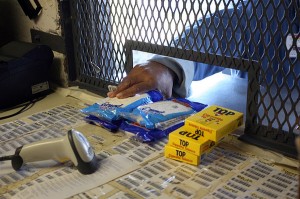 An interesting article about the uses of funds received from the sale of prison commissary items. One use is the installation of computer terminals in each maximum security cell to provide video visitation. This reduces prisoner movement and increases safety. The use of the meshDETECT secure cell phone solution also eliminates the need to move prisoners to provide access to telephones.
Every time an inmate buys a candy bar or a bag of chips he or she is doing something good for all inmates in the state's prison system.
Whether it is snacks, envelopes, toothpaste or phone cards being purchased by inmates at the prison canteen, all proceeds from the sales go into an inmate fund. That adds up to about $2.5 million a year from the 20 state prisons, said Katherine Sanguinetti, Colorado Department of Corrections spokeswoman.
"That money funds volunteer programs, educational programs, a lot of things. It has to be spent for the offenders," Sanguinetti explained.
The most highly advanced example of the canteen funds at work is in the new tower at Centennial Correctional Facility, which opened a year ago. The 316-cell tower features cells equipped with state-of-the-art computer terminals that allow the administrative-maximum security inmates who are locked down 23 hours a day to obtain educational programming, see and hear visitors and watch television programming.
About 20 cable stations are accessible to inmates, so it is not the hundreds of programs people on the streets can see.
"The computer kiosks are used for visits, by teachers and even by medical providers. It is saving staff time and they are able to meet prisoners' needs more efficiently," Sanguinetti said.
As a result, the inmates can have more visits because each one does not require the moving of an inmate escorted by two staff members.
"It is far more efficient," Sanguinetti said.