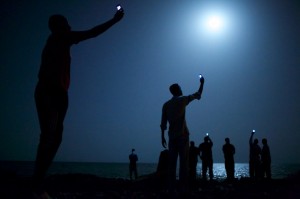 Here is the latest summary of recent news articles regarding contraband cell phones in prisons around the world. I call these periodic round up of news items, "Wireless Prison Payphone™ Briefs" because this is essentially what smuggled mobile phones in jails have become – a substitute for the current wall mounted prison payphones.

Convicted Killer Among Group of Prisoners Given Permission to Buy Mobile Phone: A convicted killer is among a group of prisoners at an open jail given permission to buy a mobile phone.
Ten inmates at Loughan House jail in Blacklion, Co Cavan, were allowed to buy a handset late last week. And among the first to get their hands on the phones was convicted killer Nigel Kenny. He and the nine other inmates were told by Governor William Reilly that they could buy the Samsung handsets with a charger and €5 credit for €25 on Friday.
The programme is expected to be rolled out to all prisoners at the open jail over the coming weeks. Mobile phones have already been given to inmates at Shelton Abbey open prison in Co Wicklow… (source)

Romania to Implement Mobile Signal Jammers in Prisons to Curb Phone Fraud by Inmates: Romania plans to implement a system that will jam mobile phone reception in prisons starting 2015, which should limit the number and use of mobile phones in prisons, but also corruption among prison employees.
The unauthorized use of mobile phones by inmates was central to many fraud cases where prisoners called gullible individuals and asked for money by giving them fake information. One of the most common schemed used was for inmates to call people and pretend they were lawyers, working with a family member who was taken by the Police and who needed money to be released, convincing families to send them over the money… (source)
Smuggled Cellphones Creating Havoc in Prisons: They're hidden in babies' diapers, ramen noodle soup packages, footballs, soda cans and even body cavities.
Not drugs or weapons, but cellphones. They're becoming a growing problem in prisons across America as they are used to make threats, plan escapes and for inmates to continue to make money from illegal activity even while behind bars.
"You can pick states all across the country and you'll see everything from hits being ordered on individuals to criminal enterprises being run from inside institutions with cellphones," said Michael Crews, head of Florida's Department of Corrections.
When two murderers serving life sentences escaped from Florida Panhandle prison last fall, a search of their cells turned up a cellphone used to help plan the getaway, drawing attention to the burgeoning problem. It was just one of 4,200 cellphones confiscated by prison officials last year, or 11 per day…(source)
Blocking Cell Phone Calls from Prisons: Good Idea, Dumb Policy: Honduras has embarked on a very stupid program of forcing its cell phone providers to block calls from within the 23 prisons in Honduras. It's not that the idea is necessarily bad. But the implementation they chose is exceptionally stupid. The Honduran Congress under Porfirio Lobo passed a bill that requires cell phone providers to block any calls from prisons. This is not something that is done easily in a standard cell phone base station and requires special programming (and probably required the purchase of that capability from the base station provider).
The idiocy comes from the fact that the law specifies that for each prison location, no cell phone be able to complete a call, text message, or Internet connection within a one kilometer circle around the prison. The Honduran Congress definitely shouldn't have specified a technical solution to what recognizably is a problem for their desired management of the prison population. But they did, and they chose the worst possible solution for the Honduran populace that lives near the prisons.
It probably bears emphasis that in Honduras, prisons are often located in densely populated areas surrounded by housing. The residents of these cities and towns living within one kilometer of the prisons targeted are suffering because their cell phones don't work, either. That means no emergency service calls for medical help, no fire protection, no calling the police to report a crime in progress… (source)
'Dead' Mobiles Spark Stir: Residents in Kalapet, Chinna Kalapet and Kanagachettikulam resorted to road blockades in four places on the East Coast Road on Monday, to protest the disconnection of cell phone towers in the vicinity of Puducherry Central prison at Kalapet. The traffic on the route was crippled for more than two hours.
The district magistrate had disconnected the towers, to stave off the use of cell phones by prison inmates, to perpetrate crimes, posing a great deal of inconvenience to the residents. However, the intervention by Revenue and Police led to the withdrawal of the road blockade.
The District Magistrate had initiated the action after the Governor himself visited the jail and raised safety issues. Taking advantage of the proximity of mobile towers, the jammers inside the central jail were rendered ineffective and the inmates of the jail made calls at ease… (source)