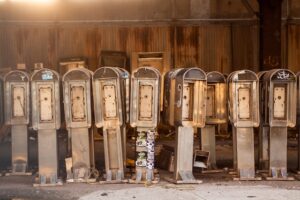 The inmate communication services industry is being fundamentally reshaped by the FCC. Potentially more significant than its predecessor initiative, which significantly reduced prison payphone long-distance rates, the recently issued Further Notice of Proposed Rulemaking seeks comment on key drivers of revenue and profit for these prison payphone providers and the prisons themselves.
With the two largest providers of payphone services owned by private equity firms, not usually known for embracing a shrinking profit model, it will be interesting to see how they push their investments to respond – both at the FCC and in the market. One potential bright spot is the increase in call volume achieved post LD rate reduction mentioned below by Commissioner Clyburn. However, with a limited number of payphones per prison facility and call length typically limited to 15 minutes per day, there is a natural cap on the call volume increase that can be hoped for to offset reduced rates and fees. (We do know of one way to provide enhanced access to communications and unlimited calling…)
The Further Notice of Proposed Rulemaking seeks comment on the following:
• Permanent rate caps on local, intrastate and interstate calling
• What level of cap would ensure coverage of the enhanced security requirements of inmate calling
• The elimination of per-call connection fees
• Prohibiting site commissions as a category for all interstate and intrastate services but permitting facilities to recover any legitimate costs of provisioning inmate calling services
• Capping and restricting ancillary fees, such as fees to open and maintain calling card accounts
• Phasing in these changes, with rate caps being effective in 90 days and a 2-year transition away from site commissions.
• Ensuring that inmate calling services are accessible for all Americans, including inmates and families with disabilities.
• Effective methods of enforcing inmate calling rate rules and reviewing their effect.
According to FCC Chairman Tom Wheeler this second rulemaking on prison payphone calls is being undertaken because, "Despite positive steps forward on interstate rates, it is clear that a more comprehensive approach to reform is necessary to address problems that continue to drive up rates. Namely, charges for "ancillary services" for an increasing array of services are on the rise; intrastate rates, which encompass the vast majority of calls from correctional facilities, remain very high in many states; and, most importantly, site commissions – payments required by correctional institutions from ICS providers for the privilege of serving those facilities – continue to be demanded and appear to be the driving force behind increased rates and ancillary fees. There are some positive signs that reform of interstate rates has resulted in reduced rates and increased calling, but absent a comprehensive solution to the problem we will continue to find ourselves in a never ending game of ICS rate whack-a-mole."
Commissioner Mignon Clyburn stated, "The impact of the first phase of reform of our nation's inmate calling regime has been tremendous. Our decision shows that doing the right thing can have reverberating benefits. Since February, when the interstate rate caps of $0.21 for debit/prepaid calls and $0.25 for collect calls went into effect, call volumes across state lines have increased nearly 70% in some facilities, and over 300% at one state department of corrections.
These are not just empty statistics. More affordable rates can help bring about increased and regular contact between inmates and their families. Studies show that having meaningful communication beyond prison walls can make a real difference when it comes to maintaining community ties, promoting rehabilitation, and reducing recidivism."