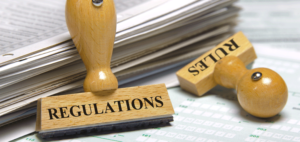 On March 7, 2016, the United States Court of Appeals for the District of Columbia Circuit (D.C. Circuit) stayed two provisions of the FCC's ICS rules: 47 CFR § 64.6010 (setting caps on ICS calling rates that vary based on the size and type of facility being served) and 47 CFR § 64.6020(b)(2) (setting caps for single-call services). The D.C. Circuit's March 7 Order denied motions for stay of the FCC's ICS rules "in all other respects." On March 23, 2016, the D.C. Circuit modified the stay imposed in the March 7 Order to provide that "47 CFR § 64.6030 (imposing interim rate caps)" be stayed as applied to "intrastate calling services."
In accordance with the 2015 ICS Order, the rules limiting charges for ancillary services—other than the rule related to single-call services, which the D.C. Circuit stayed—took effect on March 17, 2016 for all ICS calls from prisons, and will take effect on June 20, 2016 for all ICS calls from jails (see chart below). Those same effective dates also apply to the rates for ICS calls involving TTY devices, the rule governing the treatment of taxes and fees, the rule prohibiting per-call or per-connection charges, the rule prohibiting flat-rate calling, and the rules governing minimum and maximum calling account balances.
In addition, the interim rate caps – $0.21 per-minute for debit and prepaid ICS calls and $0.25 per-minute for collect ICS calls – set forth in the FCC's rules are in effect for all interstate ICS calls.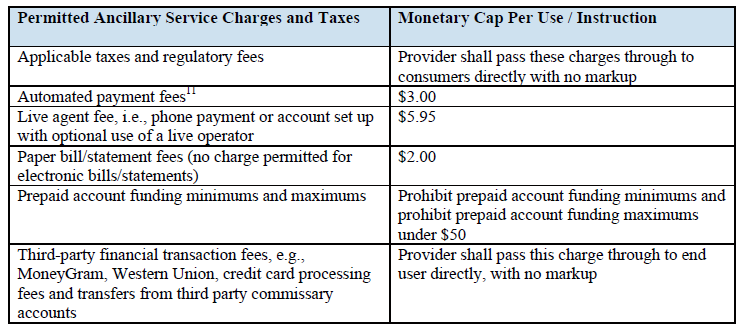 Despite the legal fight over these rates between the FCC and ICS providers such as Securus Technologies and Global Tel*Link, the elephant in the room, commissions paid to correctional facilities by the ICS vendors, has not been fundamentally addressed in this rule-making process.
In a submission to the FCC responding to objections to his petition to reconsider the latest FCC rule-making on ICS rates, lawyer Michael S. Hamden distills the issues and risks succinctly. He states, "But, as set forth in the Petition, the Second ICS Order fell short of the comprehensive reform necessary because the Commission failed to address the primary cause of ICS marketplace dysfunction—site commission payments."
"In granting a stay of the implementation of permanent ICS rates, the appellate court necessarily concluded that appellants are likely to succeed as to one or more of their challenges to the Second ICS Order. Should appellants ultimately prevail, the foundation upon which the Second ICS Order rests may well collapse. From a practical perspective, such an outcome would be destructive of the investment of time and resources of all parties over two decades, as well as the considerable time, energy, and political capital expended by the Commission in its effort to ensure just and reasonable charges and practices by ICS providers, while taking care to set rates that provide fair compensation for "each and every completed intrastate and interstate call . . .."
His analysis of the situation continues, "The Commission declined to regulate site commissions or mandate any sort of facility cost recovery, at least in part because the record before it "contain[ed] a wide range of conflicting views regarding whether correctional facilities incur any costs that are directly reasonably related to making ICS available and that must be recovered through ICS rates." The Commission did not require ICS providers or correctional facilities to report data regarding facility costs, and, consequently, it did not receive "sufficiently detail[ed]" data demonstrating facility costs from which to determine an appropriate level of facility compensation. The Wright Petitioners argue the Commission was correct to decline to establish rules that would have created a facility cost recovery fee additive because it did not have "concrete evidence in the record of the actual costs incurred by correctional facilities." That lack of data, however, is exactly why the Commission cannot have fully analyzed and ruled on a facility cost recovery mechanism."
He concludes with, "Comprehensive ICS reform has been a long time coming. This proceeding and its predecessor have been pending for twenty years. The threat is real that the persistent efforts of so many may end in a cataclysmic unraveling of reform measures painstakingly fashioned to provide certainty with regard to just and reasonable ICS charges and practices, as well as fair compensation for all ICS calls.
There is still time for the various parties to come together and work toward an ICS regulatory scheme in which rates and fees are capped at just levels, site commissions are prohibited, and facilities are modestly compensated for their ICS expenses through a fair cost recovery mechanism."
Whether this happens or not, remains to be seen.