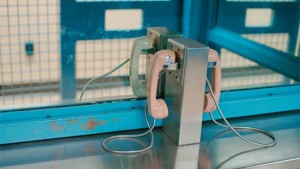 This article discusses the potential pitfalls of VoIP prison local number services offering cheap jail calls and used to bypass long distance charges for prisoners calling friends and family. One mother is quoted as saying, "I'm not able to call my son. He has to call me." With the meshDETECT secure prison cell phone service, not only are all calls the same price regardless of distance, but families can call their incarcerated loved one directly, if allowed by the prison.
Inmates at California's state prisons have long complained about the difficulty and expense of making pay phone calls from inside their lockups to their friends, families and lawyers. There are services that offer cheaper options using Voice-over Internet Protocol (VoIP), but consumer advocates say there are some risks with these cheap jail calls.
Rebecca Allen of Richmond found out firsthand. Back in May, Allen paid $44 to sign up for one month's service with "ConsCallHome," a Florida-based business that advertises it can shave 80% off the cost of an outgoing prison phone call. Allen hoped it would help her stay in touch with her son, who's serving time for a parole violation. "I'm not able to call my son. He has to call me," Allen told CBS 5 ConsumerWatch.
But Allen says she quickly found out ConsCallHome's VoIP system wouldn't work for her son, partly because the system has to work in conjunction with the prison's service provider, a company called Global Tel Link.
"I notified them (ConsCallHome) within two hours that I was not able to use the service," Allen said. The company told her it would issue a refund, but said it was keeping a $19.50 set up fee. It's now been twelve weeks, and Allen still has not received her remaining $24 refund.
Allen's not the only one complaining. ConsumerWatch found at least a dozen similar complaints on line. ConsCallHome has a "D" rating from the Better Business Bureau. The BBB reported there have been 160 complaints against the company, the vast majority for service and billing issues.
Donovan Osborne, a representative of ConsCallHome's parent company, Millicorp, told ConsumerWatch the company has many satisfied customers. She said the company's contract clearly states it does not refund set-up fees, even if the service does not work, and that all refunds are at the discretion of the company.
"That's outrageous," according to telecommunications attorney, Bill Nusbaum, of the consumer group The Utility Reform Network (TURN). Nusbaum said while some VoIP systems like ConsCallHome don't always work in state prison phone systems, "they don't tell people that on the front end," Nusbaum said.
Another problem, Nusbaum said, is that the pay phone system in the nation's prisons is largely unregulated.
Millicorp's Osborne said she couldn't explain why it's taking so long for Allen to receive her refund. "I don't know if there was a glitch or not. The company was moving so it may have gotten lost," Osborne said.