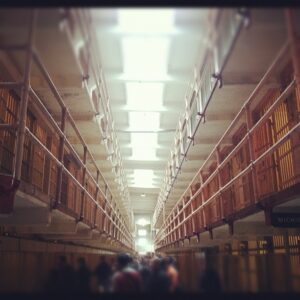 An exhaustive investigation regarding the impact of gangs on New Jersey's correctional system is described in this 2009 report we recently came upon. Of particular interest is the section we have excerpted here on the use and abuse not only of contraband cell phones, but also the authorized prison telephone system. This includes defeating 3-way call detection and exchanging PIN numbers to disguise the source of a call.
Clearly, these issues continue in the New Jersey DOC as evidenced by the recent report of out-of-control-contraband cell phone smuggling at the Northern State facility.
Incarcerated gang members and other inmates can conduct illicit financial transactions and carry out a range of criminal activities, in large part, because they are able to establish and maintain unfettered lines of communication with cohorts both inside and outside New Jersey's prisons.
Although it has been widely known for some time that inmates use everything from coded mail to smuggled cell phones for such purposes, the Commission found that gang inmates in particular in recent years have developed heightened sophistication when it comes to reaching out from prison and staying in touch with elements of their criminal organizations.
They exploit systemic weaknesses to obtain and use an array of small, easily concealable electronic devices, including personal digital assistants (PDAs, e.g. "smartphones," such as BlackBerrys) and cell phones, to receive and place calls and transmit messages throughout New Jersey, the nation and beyond. They use ever-changing encryption schemes to defeat detection of hidden messages by prison mail-room personnel. They readily subvert the State's official inmate prison phone system.
Emblematic of the Commission's findings in this area is evidence that incarceration today is no impediment to gang members conducting actual conference calls to discuss business among themselves.
The emergence, proliferation and continued development of ever-smaller and more powerful high-technology communications devices has proved a boon to incarcerated gang members and their ability to communicate with and remain active in criminal organizations.
Cell phones and related devices are prohibited in prison and subject to confiscation, and individuals found to be in possession of them are subject to disciplinary action and criminal prosecution. Even so, they are turning up in increasing numbers behind bars and have been found even in the most secure corners of the prison system:
• Between September 2004 and September 2008, DOC authorities confiscated 523 cell phones and/or "SIM" cards, as the phones' crucial memory chips are known. That number, however, does not necessarily reflect the full scope of the underlying problem. Former correction officers and inmates told the Commission that confiscations probably account for less than one-fifth of the cell phones and related devices actually present in most state prisons at any given time.
• The vast majority of confiscated cell phones were found to be "pre-paid" devices of the sort that can be purchased off-the-shelf at many retail stores. Although there is an activation process for such phones, the purchaser is not required to provide any type of personal identification, thus making him/her virtually untraceable by law enforcement.
• While officially identified gang members comprise approximately 20 percent of the total state prison population, nearly half of the confiscated cell phones were seized from these inmates, two-thirds of whom were members of various Bloods sets.
• Cell phones have been confiscated at all 14 state prisons, with Northern State Prison in Newark accounting for the largest share. Northern State houses the Security Threat Group Management Unit, a special section reserved for core gang members. Despite the fact that this unit in configured as a controlled, structured environment in which inmate behavior is closely monitored, cell phones were discovered there.
• The Commission found that a Bloods leader was in possession of cell phones while serving his sentence at three different prisons. At Northern State, this inmate was charged with possession of a cell phone three times in one month. At South Woods State Prison in Bridgeton, he was charged again with possession of a banned device when a cell phone was observed atop a television set above his bunk. Another Bloods leader had two cell phones seized from him while housed at Northern State.
• Gang inmates generate income from the prison cell phone trade. The devices ell inside at prices ranging from $250 to $500 each. In one instance, a Bloods inmate even sold a cell phone to another inmate who was a white supremacist and charged this inmate for repairs to the device. Gang inmates also profit by renting time on cell phones to fellow prisoners.
• Numerous cell phones confiscated from inmates not identified as gang members nonetheless were found to contain gang terminology in the devices' address books and contact lists. Other phones seized from inmates not officially identified by DOC as gang members contained text messages replete with gang jargon.
• Inmates readily exploit removable SIM memory cards, which contain cell phone identity information, contact lists, text messages and other data. Because of its minute size, a SIM card is easily concealable and can be transferred between cell phones, thus enabling multiple inmates to share one phone while reducing its exposure to confiscation.
• The Commission discovered instances in which inmates have obtained "smartphones" equipped with computer operating systems and removable memory, as well as internet and e-mail capability.
Prison Telephone System
State prison inmates in New Jersey are provided with access to an official telephone system that enables them to place collect calls to persons outside. Inmates are each assigned a unique "I-PIN" number that must be used to activate these calls, and they must submit a call recipient list consisting of the names and residential telephone numbers – calls to cell phones are prohibited – of no more than ten individuals. Meanwhile, for security purposes all calls placed by inmates on the prison phone system can be monitored and are recorded and archived for up to one year.
Despite these safeguards, the Commission found that the prison phone is easily subverted:
• Inmates make calls to persons not identified on call lists. This is usually accomplished by placing a call to an authorized recipient who then connects the call to a third party. Although the prison phone system is technically designed to detect third-party connections and then terminate the call, inmates easily defeat that capability.
• Inmates borrow and/or exchange I-PIN numbers to disguise the actual source of a call. In one such instance examined by Commission investigators, a Bloods leader used the I-PIN number of a fellow gang member to place unauthorized calls.
• Insufficient resources and staff have weakened DOC's call monitoring capability as a pro-active investigative tool. This capability is critical for detecting criminal activity and gathering current and relevant information involving the actions and plans of gang members and other inmates.