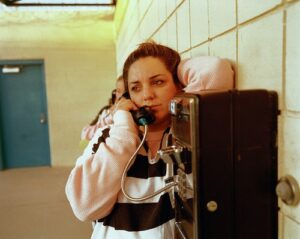 The U.S. General Accountability Office (GAO) released a report last month on the Federal Bureau Of Prisons mounting overcrowding issues entitled, "Growing Inmate Crowding Negatively Affects Inmates, Staff, and Infrastructure."
In this report, the GAO analyzed BOP's inmate population data from fiscal years 2006 through 2011, BOP's 2020 long-range capacity plan, and BOP policies and statutory authority. GAO visited five federal prisons chosen on the basis of geographic dispersion and varying security levels. The results are not generalizable, but provide information on the effects of a growing prison population.
While it is clear from the report that much needs to be done to address the root causes of the overcrowding, we believe that some of the current dangers and restrictions imposed by this situation can be mitigated through the deployment of the meshDETECT secure prison cell phone solution.
The GAO report excerpts below demonstrate how the introduction of our solution can increase telephone access, reduce prisoner movement while improving morale, and offset the loss or reduction of family visits:
Telephone Access
"The larger number of inmates also limits inmate access to the telephone to call home and computer to e-mail family members and other contacts. For example, at one facility we visited, each housing unit had three telephones for about 156 inmates."

Clearly the deployment of secure prison cell phones would significantly improve the 1.2% telephone-to-prisoner ratio at this housing unit as well increase call access throughout the overcrowded BOP system.
Prisoner Movement
"BOP has implemented controlled movement for inmates, which is a practice that officials from one of the five states we reviewed also reported using, specifically to deal with crowded conditions. For example, because of crowded conditions, one way that BOP restricts inmates' movement in high and medium security facilities is by instituting earlier in-cell hours at night for inmates."
In many cases, prisoner movement is required to allow the detainee access to the wall phones. With a secure prison cell phone, no movement is needed and those detainees who are restricted to their cells for longer hours can now use that time communicating with family and loved ones. This will help reduce frustration with the longer in-cell time.
Visitation
"Crowded visiting rooms make it more difficult for inmates to visit with their families. BOP headquarters officials said the quality of the interaction between an inmate and family can positively affect an inmate's behavior in prison and aids an inmate's success when returning to the community. Each BOP facility has visiting space to accommodate the number of inmates that the facility was designed to house and a visitor capacity to enable staff to manage the visitation process. The infrastructure of the facility may not support the increase in visitors as a result of the growth in the prison population. Further, with more inmates, the visitation process requires more staff resources…Limited visiting capacity and the larger numbers of inmates can lead to frustrations for inmates and visitors, such as when visits are shorter or visitors are turned away because there are too many visitors on a particular day."
Reduced visitation time can be offset with expanded telephone time via a secure prison cell phone. These phones are essentially "wireless prison payphones™", with all the monitoring, recording an forensic capabilities of the wall phones.