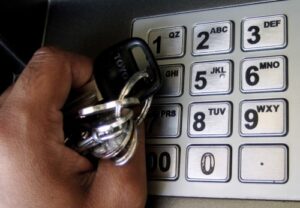 Here is a summary of recent news articles regarding contraband cell phones in prisons around the world. I am calling this round up of articles, "Wireless Prison Payphone™ Briefs" because this is essentially what smuggled mobile phones in jails have become – a substitute for the current wall mounted prison payphones.

Mobile phone jamming technology set for Scotland's prisons: Mobile phone blockers, costing up to £1 million per prison, are being planned to stop inmates continuing to run criminal operations from behind bars.
Detective Chief Superintendent Stephen Whitelock, head of intelligence group at Scottish Crime and Drugs Enforcement, said: "We have established a national prison intelligence unit which involves close collaboration with the SPS and the eight police forces, and one of the key strands of work is to tackle the use of mobile phones in prison."
However, the Mobile Broadband Group, which represents providers, has raised concerns. "The interference equipment that will be allowed within prisons as a result of this legislation has the potential to cause harmful interference to the customers of the mobile operators legitimately using their mobile devices in the vicinity," it said.
Scottish Conservative chief whip John Lamont added: "Everyone agrees that prisoners should not be able to access mobile phones or the internet outwith times monitored and agreed by the Scottish Prison Service. But the way to do this is to clamp down on smuggling. (Source)
Low-tech vs. high tech to stop cell phones in prison: California prison officials are trying a new tack to stop cell phone use by inmates. They are trying to block cell phone signals, but the technology has failed when used in other states. Every year, thousands of cell phones are confiscated in California prisons.
Inmates use them for various and nefarious reasons – ordering hits and managing gang activity from the inside out. How the phones get in is just as varied and shadowy. Evidence and testimony from officials with the California Department of Corrections and Rehabilitation (CDCR) show that staff members smuggle in phones for a lucrative profit.
Yet, corrections officers are not searched when they show up for work. Some reports say it would violate their contract, others say the state doesn't want to pay for the shift time resulting from searches. What is the best way to stop cell phones in prisons? Why aren't corrections officers searched? (Source)
Welcome to Costa del Jail! Facebook boasts of thugs and burglars serving time: Stripped to the waist and grinning from ear to ear, they look like a group of young friends posing for a holiday snap.
Actually these eight men are prison inmates parading for the camera – and they flouted a ban on mobile phones to upload the results to Facebook.
As well as dressing in their shorts, they poured scorn on the justice system by likening their prison sentences to a holiday in Spain. (Source)
Prison video visits threaten to put profit before public safety: Virtual visiting has become the latest craze in prisons, with at least 20 states now having some kind of video conferencing system in place. As most prisoners tend to get housed in facilities at least 100 – and often up to 500 – miles from home, frequent visits are impossible for families; so video calls at least offer the opportunity for some virtual face time.
Unfortunately, however, what could be a positive additional means for prisoners and their families to stay in touch is in danger of becoming any thing but a blessing. Some jurisdictions have already begun to eliminate contact visits entirely in favor of their virtual counterpart – and private corporations are already lining up to exploit this latest opportunity to fleece prisoners' families. (Source)
Prisoner's Facebook page 'mocks jail system,' union head says: A Facebook profile of a jailed, notorious street gang member highlights the smuggling problem in Quebec's detention centres, according to the president of the province's union of correctional officers.
Jonathan Jano Klor, sentenced to 14 years in prison in September for attempted murder, is listed on a public Facebook profile as a "young entrepreneur."
The profile was created in July while Klor was in Montreal's Riviere-des-Prairies Detention Centre awaiting sentencing. (Source)