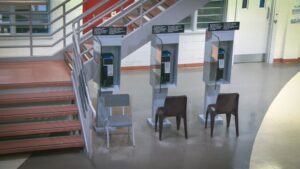 Here is the latest summary of recent news articles regarding contraband cell phones in prisons around the world. I call these periodic round up of news items, "Wireless Prison Payphone™ Briefs" because this is essentially what smuggled mobile phones in jails have become – a substitute for the current wall mounted prison payphones.
Two years ago, we explored some of the news regarding wireless prison tablet devices; which highlighted how prison payphones were being replaced by a secure wireless device with cell phone capabilities that will reduce the demand for contraband cell phones. These articles demonstrated the fact that regardless of whether the device takes the form factor of a tablet or a cell phone, wireless voice capabilities will be the key service offering in reducing contraband and recidivism.
We thought it might be worthwhile to once again survey the recent news on this wireless technology deployment trend in prisons and jails.