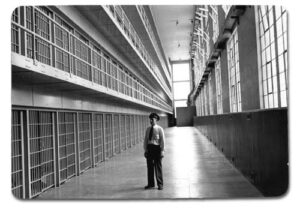 Illinois becomes the latest state DOC to investigate the use of legislation and technology to block the use of smuggled cell phones in prison. Although the use of contraband cell phones seems to be less of a problem than in other large inmate population states.
That's the latest message from state officials, who are poised to start cracking down on people who try to smuggle portable phones into prison.
Faced with the prospect that inmates could be using smuggled cellphones to plan escapes or run criminal enterprises, the Illinois Department of Corrections is asking companies how much it would cost for them to install special equipment at Illinois' nearly 30 prisons that might detect whether illegal cellphone calls are being made from within the prison walls.
The scanning technology is just one front in the state's battle against cellphones.
State Sen. Ira Silverstein, D-Chicago, recently introduced legislation that would strip an inmate of up to 90 days of credit against their sentences if they are found in possession of a cellular phone.
The push in Illinois comes just a month after California approved similar measures designed to stop the flow of cellphones into their prison system. The sponsor of that legislation said the number of cellphones confiscated in California prisons grew from 261 in 2006 to more than 10,700 in 2010.
In Illinois, however, Corrections' officials say the number of cellphones flowing into the prison system is a mere trickle.
"It is not a common occurrence. The average is about five cellphones confiscated per year, but we are at eight for this year, so it is up a little," said IDOC spokeswoman Sharyn Elman.
It has been a problem elsewhere.
A National Institute of Justice report on cellphones in prison notes a number of examples where phones played a role in potential crimes.
In Nevada, the report noted, prison officials fired a dental assistant for helping an inmate get a cellphone to plan a successful escape. In New York, an inmate used a cellphone to orchestrate an attempted escape while on a medical transfer.
The federal report added that prison officials in Tennessee banned jars of peanut butter after learning that an inmate accused in the shooting death of a guard had used a jar to hide the cellphone he used to coordinate his escape.
For now, Illinois officials are not saying how much they are willing to spend on one of a number of potential systems designed to thwart inmates from using cellphones smuggled to them in prisons.
"We have no plans to utilize this service at this point," Elman added. "We are simply requesting information to learn more about what is available."
In the meantime, Illinois inmates are still allowed some phone privileges using older, landline technology.
Under current state prison rules, all inmates have an approved list of numbers they are allowed to call using phones at each prison. For general population offenders who are not under any disciplinary measures there is no limit on collect calls or prepaid calls. The phone system will disconnect the call after 20 minutes but the offender can then dial it again if no one is waiting for the phone.
"If an offender is under any form of discipline his or her phone privileges can be limited to one call per month or no calls at all," Elman noted.

Source