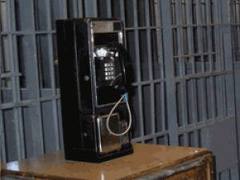 This article regarding the rate increase for Michigan's state prisoner telephone services offers the following insight, "Criminologists report that prisoners with strong social bonds are less likely to re-offend or exhibit anti-social behavior. Prisoners able to talk more with their families display the higher signs of rehabilitation than prisoners who converse less frequently." A secure prison cell phone service would increase the ability of prisoners to communicate with their families while reducing the contraband value of smuggled prison cell phones. This rate increase, to pay for cell phone signal jammers, may not have been necessary as a result.
Under a new contract, prisoners pay almost double the amount to make phone calls. The increase means more money to Department of Corrections at great cost to prison families, inmates say.
July 1, local calls went from 12 cents per minute to 20 cents per minute. Interstate calls went from 15 cents per minute to 23 cents per minute.
Public Communications Services (PCS) recently acquired the contract for Prisoner Telephone Services. PCS promotes itself as a nationwide Inmate Communications Service provider with "affordable calling options" that are approved by the correctional facilities.
Michigan Department of Corrections spokesperson John Cordell said the price increases reflect the cost of new telecommunications equipment, safety and security features.
"Embarq, which had the contract for 10 years, had not made upgrades. Out-of-date technology equipment had to be replaced," Cordell said. "The cost of installation of equipment that can detect cell phone usage was also built into the contract."
Not so, according to a letter received from Dennis Boatwright, imprisoned at Mid-Michigan Correctional Facility.
"A Michigan Department of Corrections (MDOC) memorandum showed that the PCS phone company only charges inmates 3 cents a call," Boatwright writes. "At the same time, this memo reveals that the MDOC is receiving up to 15 cents a minute kickback."
According to Cordell, the technology will enhance security and increase the safety of staff, prisoners, visitors and citizens of the state of Michigan.
"The equipment was not available in the past because of the high cost associated with installation," Cordell said. "The increases in rates will offset that cost and allow the department to implement this much needed security enhancement."
When the cost of installation is recouped, the phone rates will be reduced, Cordell said.
Security is a false issue, according to Boatwright.
Court evidence has revealed prison staff smuggle in cell phones for bribes, Boatwright says. Furthermore, there are no incident reports of cell phones being brought in by visitors through the visiting rooms.
"Funds for security measures are already accounted for in preexisting corrections budgets. The equipment the MDOC will use to detect prohibited phone calls cost significantly less than the kickbacks the corrections department will pocket," Boatwright writes. "MDOC is using these kickbacks to prevent more prison closings, and to maintain sweetheart fringe benefits for staff such as unquestioned sick days off and numerous vacation days. To be sure, many correctional facilities are already outfitted with scanner-like devices."
Cordell indicated the cost per minute with the previous contractor, Embarq, was fifth lowest in nation. With PCS increases, the rates are 11th lowest in nation.
Cordell says installation cost is still being calculated.
"We are still working out what the cost will be after the installation. They would be reduced, but we won't know how much until we know what specific system we are using and what the maintenance/operational costs will be," Cordell said. "It is too early to speculate on what the rate would be once it is reduced.
In the meantime, increased phone rates hurt not only prisoners, but also relatives and friends who send money to incarcerated loved ones, according to Boatwright.
"Criminologists report that prisoners with strong social bonds are less likely to re-offend or exhibit anti-social behavior. Prisoners able to talk more with their families display the higher signs of rehabilitation than prisoners who converse less frequently," Boatwright writes. "Thus outrageous phone rates not only cost society additional money, but may cost even more socially if taxpayers don't express their disapproval at this unjust business practice."