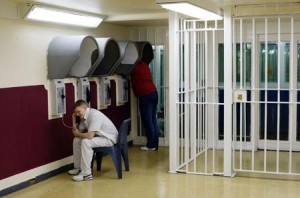 Larry Stone made a phone call from the Lake County Jail that would typically cost about $20, but it didn't go through.
The charge was supposed to be refunded to his inmate account. But, the 32-year-old checked his balance and discovered his account now had more money than before the call. He made another call and hung up to test his luck. Again, more money magically appeared.
He repeated the exercise 77 times, exploiting the glitch that was mistakenly depositing credit into inmate trust accounts for each incomplete phone call.
After four hours of dialing a combination of local, long-distance and international numbers, Stone had accumulated more than $1,250 — enough money to bond out of jail, according to a Sheriff's Office investigative report.
Stone, who was arrested in April on property-crime charges, walked out of the Tavares facility earlier this month with $50. But he wasn't free for long.
News of the bug floated to other inmates, who began to spend inordinate amounts of time on the phone.
Global Tel*Link — the company that provides the jail's inmate phone system — charges the cost of a call from inmate trust accounts at a rate of $2.58 for local calls, $13.85 for long distance and $23.68 for international calls.
If no one answers or the caller hangs up, the money is returned to the account, officials said.
But in early July something bizarre happened. The system was reimbursing inmates twice for incomplete calls — allowing them to make a profit.
Stone took advantage of the malfunction and dialed a Canadian number dozens of times, investigators said.
Sheriff's Office spokesman Lt. John Herrell said scammers reaped immediate gains from the ruse because inmates can check their balances on the phone.
The jail's technology department noticed a high volume of incomplete calls and alerted detention deputies.
Inmate Kevin Tomlinson was in the middle of paying his $1,400 bond when investigators caught up with him. He had used the malfunctioning system to his advantage, investigators said, accumulating hundreds of dollars in the process.
Tomlinson told detectives he learned about the system's bug on his own and didn't tell anyone else.
Nevertheless, the glitch affected about 256 jail inmate accounts and lasted 24 hours, Herrell said.
Detectives have not calculated the total amount that was inappropriately refunded, he said.
The software error has since been fixed and accounts restored to their pre-glitch totals, officials said.
"In most cases, physical money was not actually received; it was mainly credits and debits on paper," Herrell said. "Some inmates were transferred to other facilities after working the scam and were given checks for the amounts they had obtained in their accounts; however, all such checks were quickly recovered."
Herrell attributed the glitch solely to the company.
Global Tel*Link executive director Dorothy Cukier said the "erroneous credits" were caused by human error not software failures.
"The software, which was already properly running in the background, was inadvertently started a second time by someone with access to the system," Cukier said. "Following this incident, GTL made changes to the system to prevent the duplicate operation of this software program in the future."
Herrell said the jail has used the system since 2006 and never had a problem. Now that the contract with the company is set to expire, the Sheriff's Office said it could explore other options.
Just a few hours after his release, Stone turned himself in to authorities, saying he knew they were looking for him.
Now Stone is facing additional charges of scheming with intent to defraud and grand theft. He declined an interview request from the Orlando Sentinel. An investigation is ongoing, and additional inmates may be charged.
"We discovered it early on and took swift action to locate Stone and take him back into custody after his bond was revoked," Herrell said.