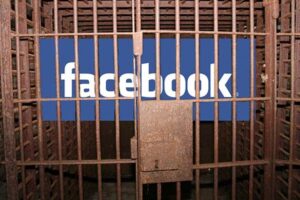 The Washington State Department of corrections has asked Facebook to remove inmate Facebook pages. It joins California in trying to stop the social media activity of prisoners. Internet access on smuggled cell phones is not thought to be a major contributor to the problem, but over time this will change.
Facebook, which has become the ultimate time killer, will likely no longer be permitted for people serving time.
The Washington state Department of Corrections (DOC) has begun talks with the social-networking giant to have inmate accounts disabled, said prisons spokesman Chad Lewis. The move was spurred by an announcement from the California Department of Corrections and Rehabilitation earlier this month that Facebook has agreed to take down inmates' pages.
In Washington, the decision to try to ban inmates from offering status updates, "liking" friends' photos, commenting on videos and sending messages will likely affect only a handful of inmates, Lewis said.
Over the last year, corrections officers have confiscated about 40 contraband cellphones from prisoners — the vast majority did not have the smartphone technology necessary for Facebook usage, said Lewis.
Inmates are forbidden from possessing or using cellphones in Washington prisons, and they are not allowed to use the Internet on prison computers.
Corrections staff believe that family or friends of inmates have been keeping the jailbirds' accounts going from outside prison walls, which is a direct violation of a Facebook policy prohibiting anyone else from using another person's account, Lewis said.
"We think most of the time if an offender's Facebook status is updated it's a family member or a friend updating it," Lewis said. "The indication has not been that anything illegal has been done. It has mostly been males trying to communicate with their wives or girlfriends or sharing naughty photos."
The same DOC investigators who scour inmate letters, listen in on phone calls and check the highly secured instant-messaging system that prisoners are allowed to use to communicate with a specific list of people, are checking Facebook regularly looking for inmate accounts, Lewis said.
Corrections officials initially considered asking the Legislature to make the possession of Facebook accounts by inmates a crime punishable by additional prison time, but the proposal was shelved because of the potential financial costs. If just establishing an agreement with Facebook doesn't work, Lewis said that DOC will consider legislation in 2013.